Wildlife photographer Andrew Beck of Wild Eye recently got the chance to test out an early production unit of the Canon EOS R5 out in the wild… literally. And according to him, the camera's Animal Eye Autofocus is a game-changer.
In a short hands-on preview video published last week, Beck shares EVF footage that he captured while shooting with the EOS R5 in a variety of different lighting scenarios. All of the footage was captured in South Africa's Sabi Sabi Game Reserve, and some of the low-light and bird footage in particular is very impressive.
"The speed of acquisition and ability to actively and continuously track a subject through the entire frame is quite literally mind blowing," writes Beck in the video's description. "The first clip where the camera identifies and locks on to the eye of a lion even though there is no light is a moment I'll never forget. Bear in mind that that was with the Canon 100-400mm MKII @ F5.0 in very low light. Astonishing."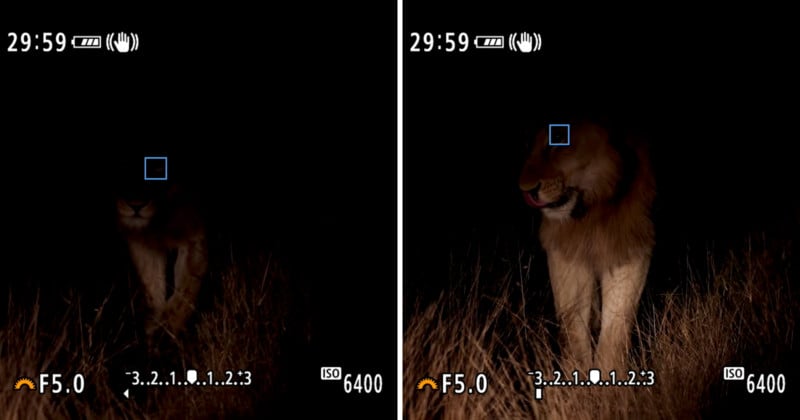 You can see the moment he's referring to in the screenshots above or watch it for yourself in the video up top. There's no denying some of the sample footage is impressive… to say the least. The system isn't infallible–the sample with the baby rhino and at least one of the bird samples show how Animal Eye AF can struggle to find its mark at times–but it seems way beyond "usable" for professional wildlife work.
we'll be really curious to see how Canon's Animal Eye AF in the R5 and R6 compare to the same technology in Sony and Nikon cameras once more proper full-production review units are out in the wild. But based on this video, Canon is playing to win.
Tags: animalaf, animalautofocus, animaleyeaf, animaleyeautofocus, autofocus, autofocustest, canoneosr5, eosr5, eyeaf, eyeautofocus, handson, inthefield, inthewild, irl, review, test, wildlife, wildlifephotography