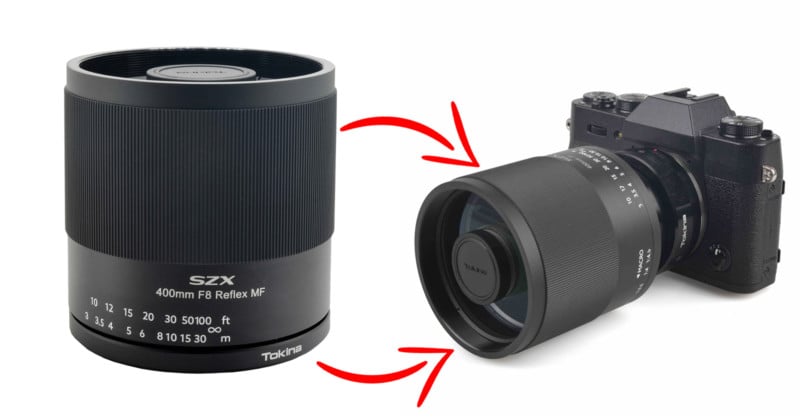 In a surprising turn of events, Tokina has just unveiled the SZX Super Tele 400mm f/8 Reflex MF: a reflex/mirror lens for modern cameras that uses a catadioptric design to achieve a super-compact, super-light, super-telephoto.
First, a little background is in order. Catadioptric systems combine mirrors and refracting elements into a single lens. This allows engineers to literally "fold" the optical path and magnify the image, shrinking the size of super-telephoto lenses by as much as 4 or 5x while simultaneously getting rid of chromatic aberration almost entirely.
This kind of optical design is mostly used in telescopes, and while reflex/mirror lenses had a heyday in photography several decades ago, they were largely (though not completely) abandoned because of several inherent limitations. Namely: fixed apertures, distinct "donut" bokeh, and the lack of in-lens stabilization. But given the rise of mirrorless cameras that include in-body image stabilization and place a premium on compact lens design, Tokina clearly thought now was the time to bring the reflex lens back into vogue.
The new Tokina SZX Super Tele 400mm f/8 Reflex MF is a manual focus Reflex lens that is billed as "a compact alternative to standard tele photo lenses as more and more photographers are looking for easy-to-carry gear." Weighing just 340g and measuring just 77mm (3 inches) long, easy-to-carry isn't an exaggeration.
The downsides of the lens remain the same: donut bokeh, a fixed f/8 aperture that cannot be changed, no autofocus, and no in-lens stabilization to speak of. However, given the advent of high-quality focus peaking in the EVF, in-body image stabilization, and sensors that can produce clean images at high ISO, these limitations feel far more reasonable today than they did in the past.
As a bonus, the lens' design allows it to achieve a magnification ratio of 1:2.5, so you can even do a little bit of macro shooting with this optic.
In a way, this is an intriguing alternative approach to the 600mm and 800mm f/11 lenses that Canon just unveiled. Those, too, feature a fixed aperture, and even though they have autofocus and in-lens IS, they are also slower and larger than is possible with a catadioptric design.
The Tokina 400mm f/8 Reflex MF is slated to go on sale August 7th, price TBD. The lens itself uses the "0.75mm pitch and 42mm thread mount standard," but it will be available in kits with lens adapters for Canon EF, Nikon F, Sony E, Fuji X, and Micro 4/3 mounts.
To learn more about this lens and the history of reflex lenses, head over to the Tokina website.