A designer duo has created a first-of-its-kind lens that can record 360-degree spherical video content that doesn't need to be stitched in post-processing and can be used with any conventional camera.
Rob Englert and Meyer Giordano are two experienced industrial and interaction designers with a particular interest in augmented (AR) and virtual reality (VR) and have worked with brands such as Bose, Chobani, KODAK, RIDGID, and others. Together, they founded the (sphere) optics brand under which they developed the unique (sphere) Pro1 lens, which can capture everything in full 360-degree view, and creates shooting opportunities that otherwise would not be possible.
What makes it unique is that this lens eliminates the stitching process normally found in spherical or VR content production that combines the perspective of multiple cameras and lenses together. Additionally, creators can also use their existing camera and workflow with the Pro1 as opposed to needing wholly separate equipment.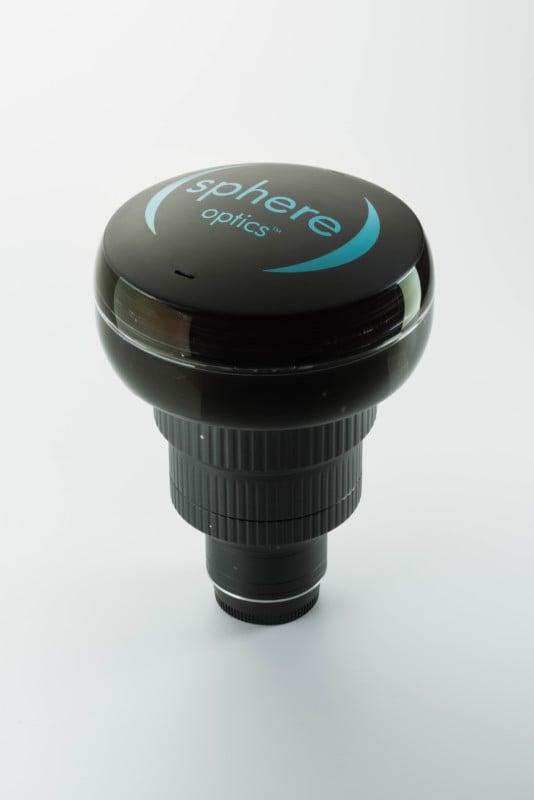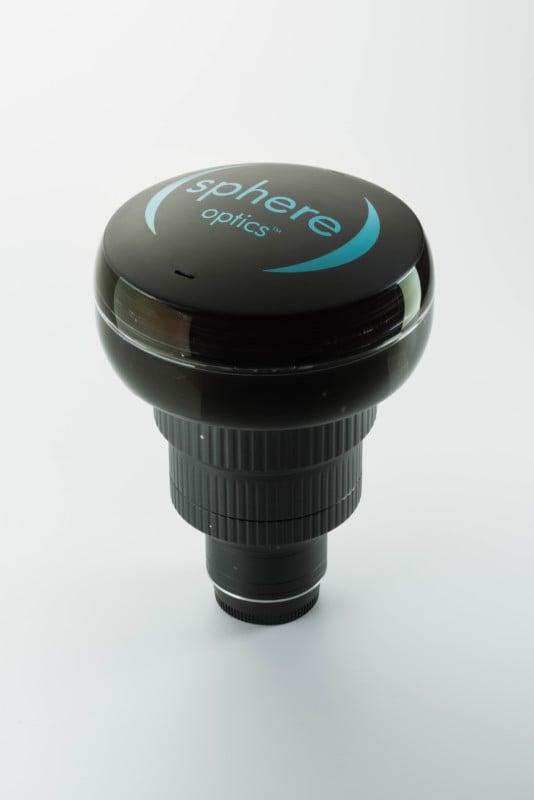 The idea for the lens was born out of personal experiences after Englert lost his young brother. This life-changing moment happened long before everyone had smartphones in their pockets, which left Englert with almost no memories captured of his brother in a video format.
This fuelled his drive to use all of his skills as an industrial designer "to explore different ways to capture moments in time," which can later be revisited over and over again. He says that he would "give almost anything for just a couple more minutes" with his brother, and although that is not possible anymore, he hopes it can be made possible for others in the future.
Lens Design
Originally, the novel lens was developed as part of the duo's ongoing work on AR and VR technologies, with the inclusion of non-fungible tokens (NFTs) in the project's funding process. Both designers were producing 360-degree videos, using multi-camera arrays in a housing that they had designed and 3D-printed. The process was arduous because the content was recorded across several cameras and the final output needed stitching. They separated each video into frames, combined each set of frames into a panorama, and then recompiled it as a video. Even then, the final product would still have knit lines visible where the views were merged.
Both designers spent a lot of time reviewing how this process could be improved, which is where the idea of a single lens and single-camera setup originated. Instead of using optical design software, they created potential shapes as 3D models and then simulated the result using regular 3D rendering software, which eventually, after some trial and error, gave them a potential physical prototype. They still had to test it in a real-life scenario, which meant the prototype had to be made by hand. Once finessed, they began working with optics professionals to further refine the design and get one step closer to a finished lens.
To cover 100-percent of the environment with the lens, they started with a regular circular fisheye lens with a field of view of approximately 180-degrees and mounted a mirror that reflects its image downward like a periscope in front of it. Then, using the cross-section of this setup, they extruded it in a circle around the axis of the mirror, which ended up with several donut-shaped lens elements around a cone-shaped mirror, which then provided the 180-degree vertical field of view of the original fisheye design as well as a 360-degree horizontal view from being revolved around the center.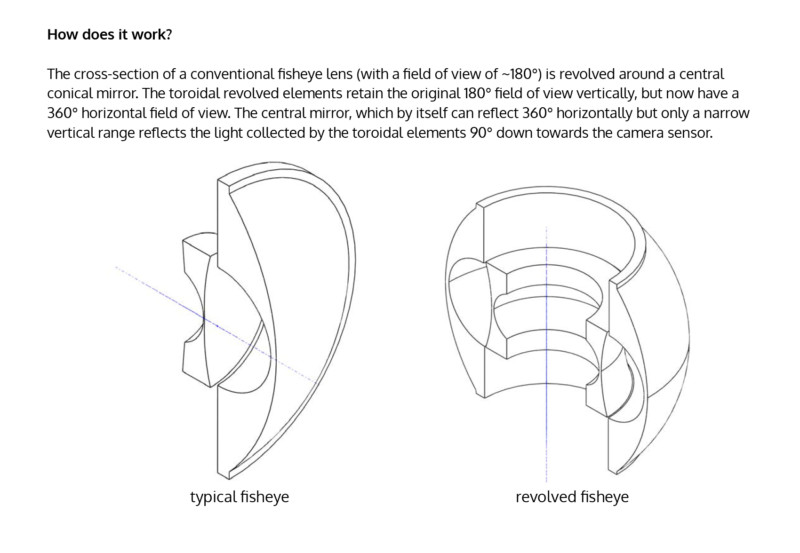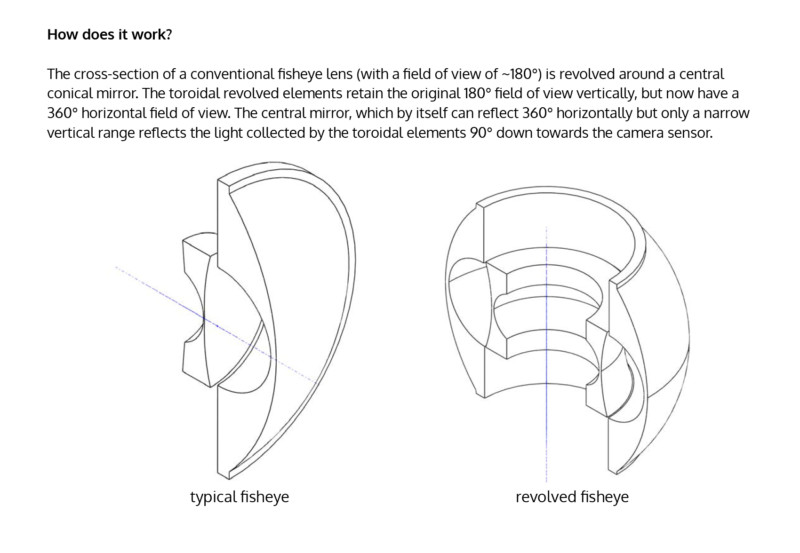 The current design of the lens has 12 elements: one reflective — the mirror — and 11 refractive, including twi torus-shaped elements that surround the mirror. Most of the elements of this lens are just as unique as the design itself and cannot be found in any other existing lenses.
The parts are made from specialist engineering plastics — using a family of materials called cyclic olefin copolymers — in a process called single-point diamond turning, which is the only way to generate the complex aspheric forms that make the lens design possible. These plastics have similar optical properties to glass, but are much lighter and easier to shape, and are used in top-end scientific applications, like space telescopes.
The duo chose to go with Nikon F-mount because it's easily adaptable to most other common standards, making it easier for content creators to use the equipment they already have instead of investing in a completely new system while maintaining full control over the image at all times. The single-lens construction also allows capturing content that a standard VR setup couldn't due to space limitations.
The lens has a fixed f/8 aperture and uses a 1mm focal length. It is 150 millimeters (5.9 inches) wide and 198 millimeters (7.8 inches) long and weighs 1.8 kg (4 lbs).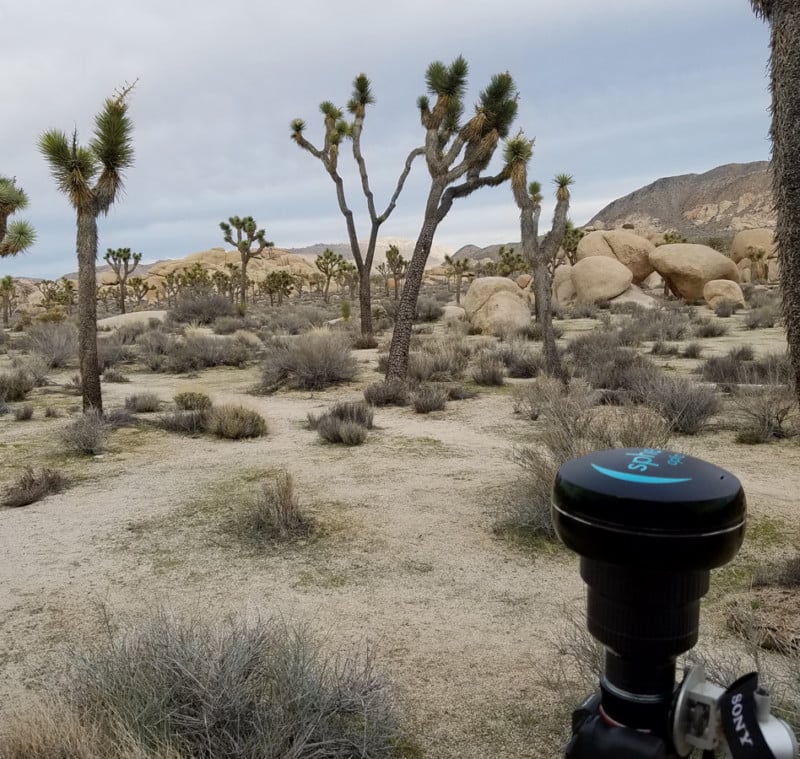 Currently, these lenses are produced extremely slowly. They are fabricated one unit at a time and assembled by hand, which makes the individual cost quite high. However, with a large order, the duo says that costs could be significantly reduced by molding most of the elements. The two believe that this lens can benefit a wide range of industries from film, documentary, gaming, and entertainment, all the way to engineering, military, surveying, and more.
Photo and Video Footage
For stills, the lens produces a circular image with a black void in the center. The area near the center of the image corresponds to the forward end of the lens, and the outer periphery of the image circle is the direction facing the camera body. In their words, "It looks a lot like the black hole from 'Interstellar.'"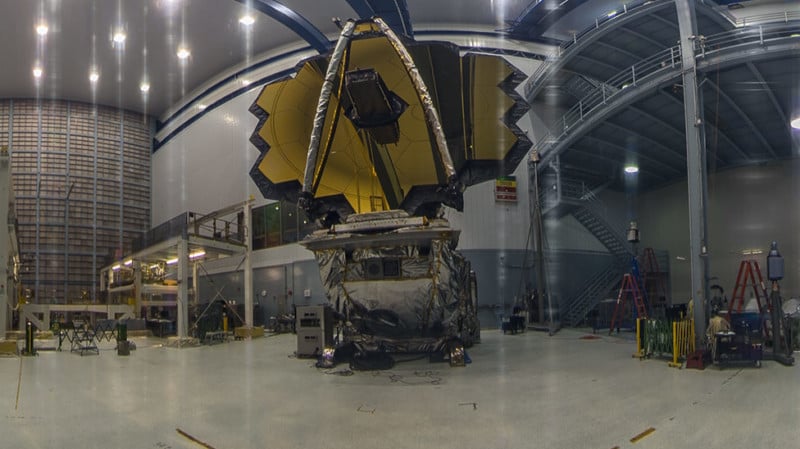 The circular image can be used as-is if desired, but most 360-degree video players use the standard equirectangular format. For this reason, (sphere) provides an ST map, which is an image that acts as a positional lookup table to tell the computer how to rearrange the pixels. This is also commonly used to remove lens distortion and internally is similar to what Adobe Camera Raw's distortion correction does. The duo says that Adobe could add specific support for this if they desired.
Designers have also created 3D meshes that can be inserted into game engines, such as Unity or Unreal, to unwrap the image in real-time, "which is very useful either to act as a monitor for recording or to facilitate live streaming to VR headsets." Overall, the process of converting (sphere) videos to VR experiences is simple and can be done on iOS and Android devices, the designers claim.
Get Involved
To fund the project and the ongoing development, the team offers high resolution, fully immersive VR moments as limited edition NFTs on Mintable. These moments were filmed using the lens and buyers can use their VR headset to virtually enter the place and time captured. The purchase includes the video in standard equirectangular format at 8K resolution for viewing via VR headset, along with the native circular projection of the (sphere) Pro 1 lens at the native 4,048 x 4,048 resolution.
Additionally, the company offers a token that can be exchanged for a physical copy of the (sphere) Pro1 lens as more units become available. You can also view a (sphere) gallery with more image samples here.