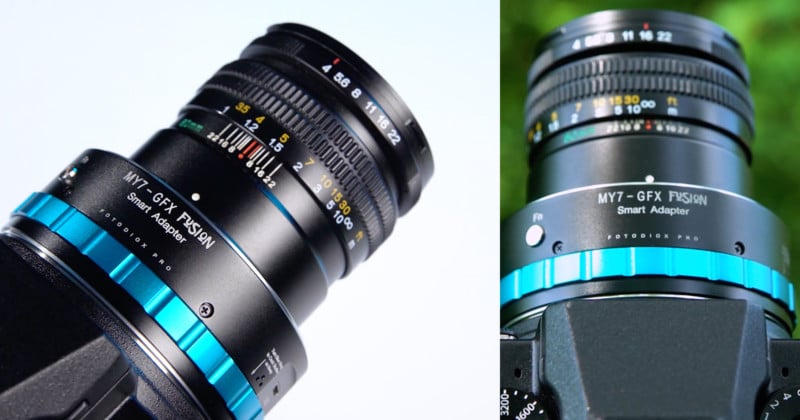 Accessory maker Fotodiox is known for creating some unique (if occasionally problematic) lens adapters, and they've just done it again. Their new MY7 – GFX pro fusion adapter lets you use Mamiya 7 rangefinder lenses on Fuji's medium format GFX cameras, including electronic control where possible.
The adapter works by letting you to unlock the leaf shutter on Mamiya 7 lenses manually before you start shooting, allowing you to use your Fuji GFX camera's internal shutter instead. Additionally, the "Fusion" in the adapter name means that you can calibrate the lens' Aperture and EXIF data with your camera by setting the lens to f/8 and holding down the Fn button on the adapter for 20 seconds after you turn on your camera.
Once calibrated, changes made using the manual controls on the lens should show up in your GFX camera.
You can see all of this in action on a Fujifilm GFX-50S in the video below:
And here's a closer look at the adapter. Notably, the newer Fusion adapters like this one come with a MicroUSB port for firmware updates… a nice feature that will hopefully help to avoid any camera-crippling incompatibility issues in the future.
The "catch" for this smart adapter—assuming solid performance—is definitely the price. At a whopping $500, Fotodiox is really banking on the fact that you have no other options. Still, if you've ponied up for a Fujifilm GFX camera and have some old Mamiya 7 lenses hanging around, $500 might be a small price to pay for an adapter that lets you breathe new life into your old glass.
To find out more about this adapter or if you want to pick one up for yourself, head over to the Fotodiox website.