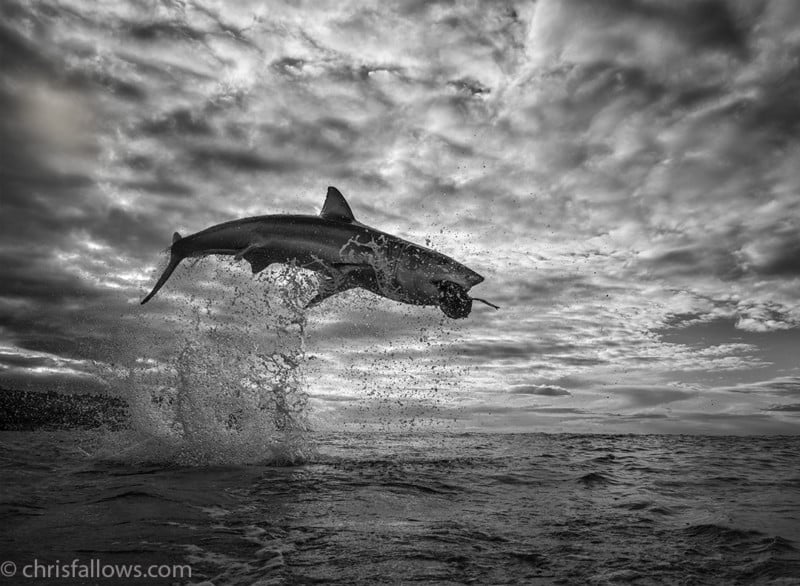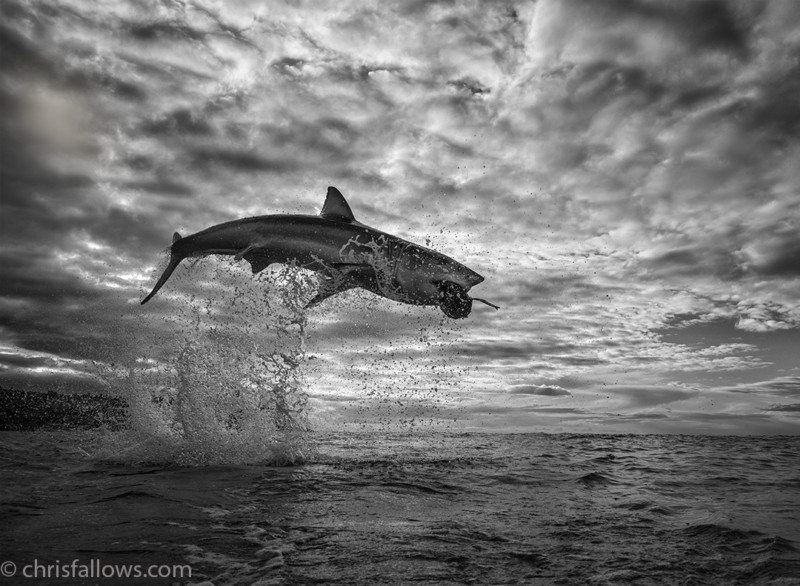 Fine art wildlife photographer Chris Fallows recently made headlines the world over with his photo titled "The Pearl": an incredible black-and-white image that shows a massive Great White shark breaching 12 feet above the water, set against a backdrop of high-contrast clouds.
The photo was captured in South Africa, and the story behind it was recently showcased in a Discovery Channel 'Shark Week' special called Air Jaws. As the title implies, the show followed various experts as they attempted to capture the best breach, and Fallows' incredible image, captured using a "tow camera," pretty much came out on top (pun intended).
But don't let the seeming serendipity of the shot fool you, this image was years in the making.
"The groundwork for the image of 'The Pearl' had been laid years before when I tried to get a super low angle of a breaching great white off a sled I was towed on," Fallows tells PetaPixel. "The problem was that the sled was big, 6×5-feet, and that distracted the sharks. I needed something smaller and so designed a new tow sled for my gear."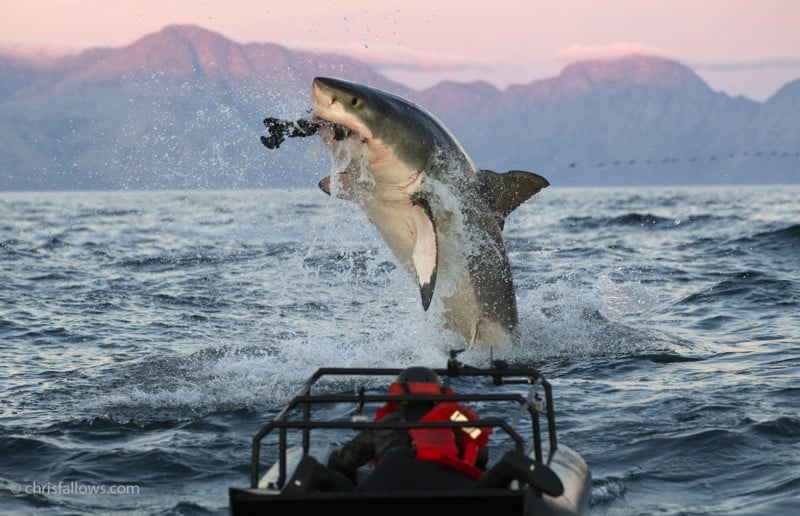 This is a risky prospect for his gear, explains Fallows, but it paid off big time.
"The risk is very high as, on the seaward side facing the shark, my camera and lens is completely exposed just inches off the ocean. One big splash or wave and it's game over," he tells PetaPixel. "It's incredible I still feel the surge of adrenaline when I think of that magnificent sight of a breaching great white shark where everything came together."
In addition to The Pearl (up top), he's also able to capture images like this: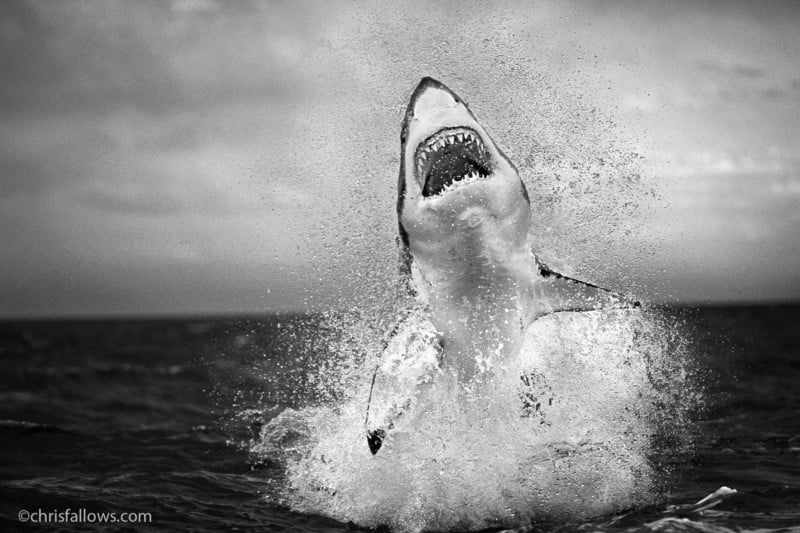 But Fallows doesn't just photograph sharks. His work spans the animal kingdom, and he hopes that the attention that Air Jaws and 'The Pearl' has earned him will encourage animal fans and photography lovers alike to explore the broader portfolio of fine art wildlife photography that he's spent decades capturing.
His work isn't just about capturing striking one-off images for their own sake. He uses his fine art sales to purchase land in Africa for habitat restoration, community involvement, and the protection of wildlife. Together with his wife Monique, they have visited hundreds of remote locations around the world, spending around 150 days each year at sea and 100 days in the bush, mostly self-guided, trying to capture just one or two truly exceptional photos.
"I seek out iconic animals. I look for tuskers when I photograph elephants, black manned lions and where possible large or adult great whites," he says. "Whatever it is I look for that which represents the most iconic of a species. Sadly to find many of these animals nowadays is an achievement in itself."
Scroll down to have a look at some of the beautiful imagery that Fallows has managed to capture over the years: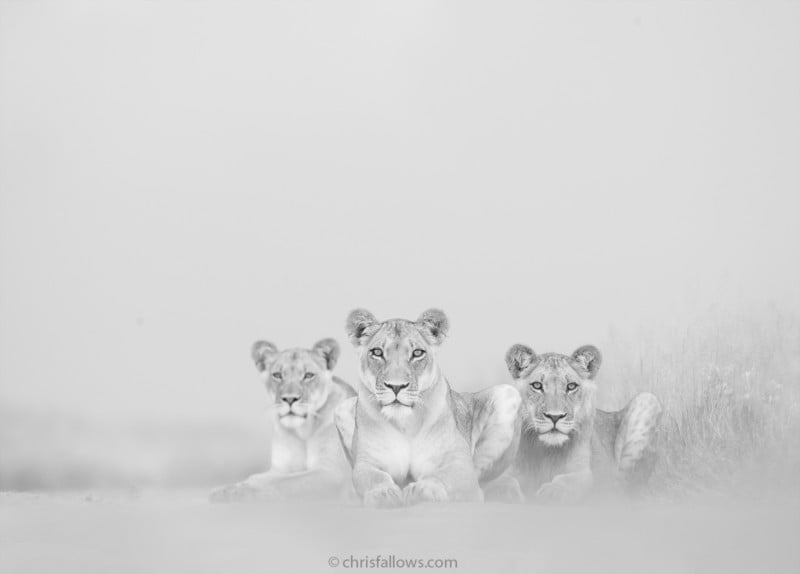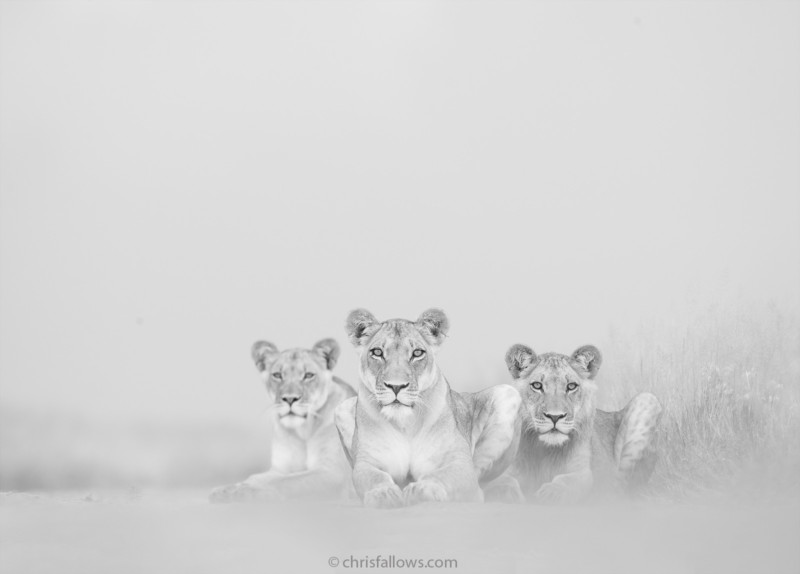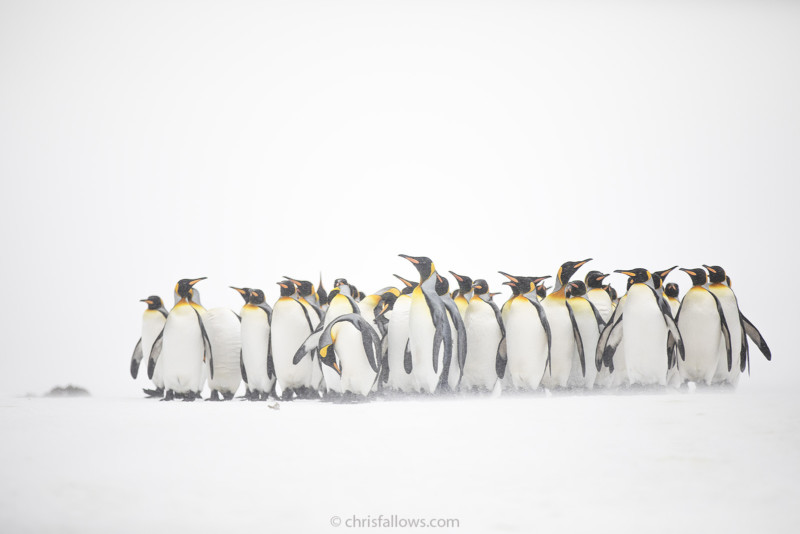 The goal, in the end, is to either fund or encourage conservation. A percentage of the funds raised from selling his work goes to various organizations and the Fallows' own purchase of land for wildlife habitat restoration, but the images themselves will hopefully have a broader impact.
"Whilst ever increasingly the limited edition prints hang in collectors homes, it is equally my desire that young people get inspired through the images to protect and conserve wildlife for their and the planets future," explains Fallows.
To discover more of Chris' work and find out more about his conservation efforts, head over to his website or give him a follow on Facebook and Instagram.
(via Fstoppers)
---
Image credits: All photos by Chris Fallows and used with permission.