Corel has announced PaintShop Pro 2021, the latest major release of the 30-year-old image editor. This new version brings AI features that aim to help photographers save time and "achieve previously unattainable results."
"PaintShop Pro 2021 makes it easy for our users to create images that were virtually impossible to achieve in their favorite photo editor before," says Corel Senior Product Manager Chris Pierce. "Every photographer knows the frustration of coming back from an amazing shoot and discovering you have hours of seemingly uninspired corrections to make before you can start your creative editing. This latest version introduces new possibilities so you can focus on the expressive elements of photography that you love."
Here's a rundown of the new features found in PaintShop Pro 2021:
AI Upsampling: "Easily enlarge or zoom in on any photo without compromising resolution or visual quality. Take advantage of this valuable technology to magnify even the finest details and create the perfect composition."
AI Artifact Removal: "Quickly remove JPEG artifacts and distortion in images with machine-learned algorithms. Reverse effects, restore fine details, and bring back the original colors in your photos to breathe new life into your images."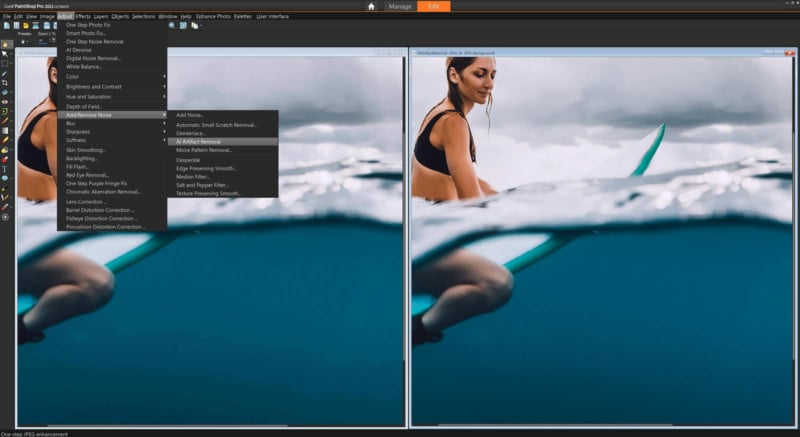 AI Denoise: "Experience PaintShop Pro's best-ever denoise results. Effortlessly remove random variation of brightness and color in images and clear up any unwanted noise to ensure every photo is crisp and clear."
AI Style Transfer: "Instantly transform your photos into dramatic works of art with this new AI-based style transfer technology. Experiment with new presets designed to replicate famous artistic styles using a variety of media types."
Photography Workspace Redesign: "When looking to make quick edits, the re-designed Photography Workspace gives you access to all the tools, AI-powered features, and creative presets you need in a sleek and intuitive environment. This workspace is also compatible with touch and Ultra HD 4K devices."
Creative Content: "Elevate your creative potential with new brushes, color palettes, gradients, patterns, and picture tubes. Easily download new patterns through the Welcome Book and find the rest of the new creative content built right into PaintShop Pro 2021."
Corel has also designed a new workspace for a premium version of the software called PaintShop Pro 2021 Ultimate. It's a workspace called Sea-to-Sky that "helps take drone and underwater photography to new heights and depths with tools specifically built for these unique types of photography."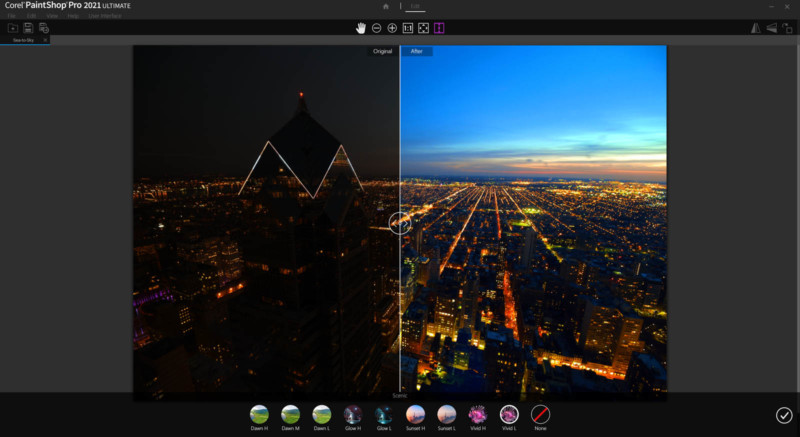 Here's a 1.5-minute video introducing PaintShop Pro 2021:
PaintShop Pro 2021 is available now with a perpetual license for $80. If you own any previous version of PaintShop Pro, you can upgrade for a discounted price of $60. PaintShop Pro 2021 Ultimate costs $100.