Kodak's stock skyrocketed severalfold today, and it had nothing to do with the company's long-established business in the world of photography. News broke that Kodak had secured at $765 million loan from the US government to shift its attention to producing ingredients for generic drugs.
The Wall Street Journal reports that Kodak received the first loan of its kind under the Defense Production Act, which is part of a US effort to reduce its dependence on foreign countries by bringing production of certain things back onto American soil. Kodak has 25 years to repay the loan.
Among the generic drugs that Kodak will be producing ingredients for at its Rochester, New York, factory is hydroxychloroquine, the anti-malarial drug that President Trump has been touting as a treatment for COVID-19.
The news of Kodak's pivot was celebrated among investors, who sent the company's stock soaring from its previous close of $2.62 to a high today of $11.80, a surge of nearly 450%. At the time of this writing, the gain has been pared to under 300%.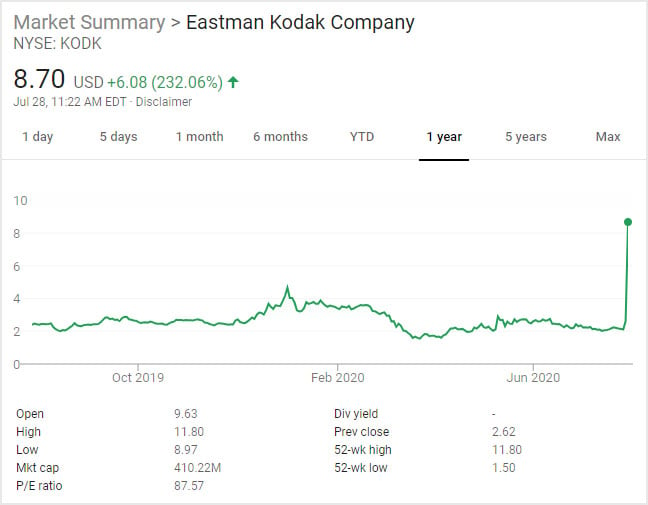 Once a juggernaut in the photography industry, Kodak missed the boat when cameras went from film to digital, and it filed for bankruptcy in 2012. After selling off its personalized imaging and document imaging businesses to settle a massive pension claim, leading to the creation of Kodak Alaris, Eastman Kodak emerged from its bankruptcy as a shell of its former self that focused on commercial printing and licensing its brand name to third-party manufacturers.
Earlier this month, it was reported that Kodak is selling its paper and chemistry business to a Chinese company. Now, given this latest shift towards drug manufacturing, it's clear that Kodak is aggressively diversifying its portfolio and making photography an ever smaller part of its overall strategy.
---
Image credits: Header illustration based on photo by Thomas Belknap and licensed under CC BY-SA 2.0