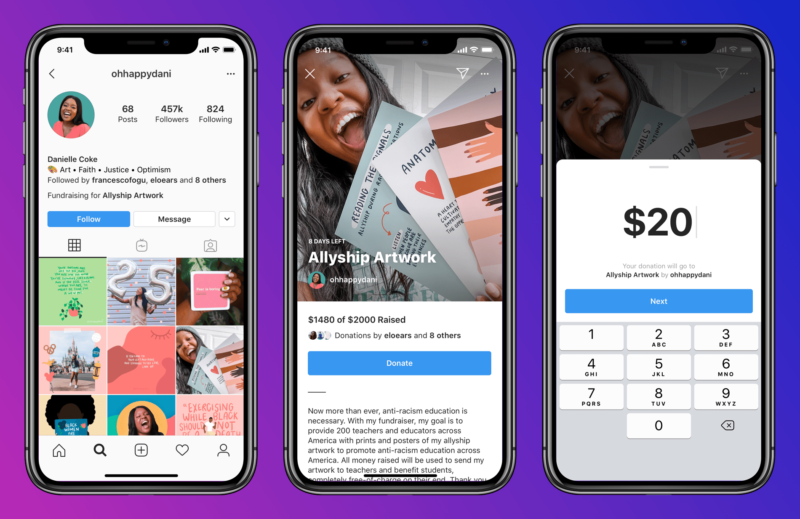 Earlier today, Instagram announced that it would be testing a new "personal fundraiser" feature that will let users raise money for a personal cause directly through the photo sharing app. That includes things like raising money for "personal emergencies," like having your gear stolen, or even raising money to fund your "hobbies."
Instagram shared the news on its blog, and while this is still a small test being conducted in a select few countries–just the US, UK, and Ireland for now–the feature could come to replace some of the popular GoFundMe campaigns that we've seen both within and without the photo industry.
Unlike more traditional Fundraising features on Facebook and Instagram that are limited to raising money for established non-profits, this new feature allows you to create your own "personal cause" just as long as it complies with Facebook's published guidelines. Causes must fit into one of 14 categories, including Medical, Education, Faith, Community Projects, Hobbies, and Personal Emergencies.
You can learn more about the personal fundraiser feature in the video below:
Creating a personal fundraiser is easy: you just "Edit Profile," "Add Fundraiser" and then "Raise Money." You'll need to select a category and add further details, at which point Facebook/Instagram will review and approve your fundraiser, assuming it matches the eligibility criteria set out at this link.
Each fundraiser lasts for 30 days, with the option to extend for another 30 days once time runs out.
This is an interesting feature, and one that could start seeing widespread use among photographers and photography enthusiasts if it is released more broadly. We've seen businesses and individuals alike attempt to recoup losses from stolen gear or property damage (or COVID-related losses) through GoFundMe, and the "Hobbies" category opens up the opportunity for photographers to fund the purchase of new gear and upgrades.
To learn more about the feature, check out the full announcement post here. For now, it's still a small roll-out, but Instagram is already promising to expand the feature "in the coming months."
(via TechCrunch)