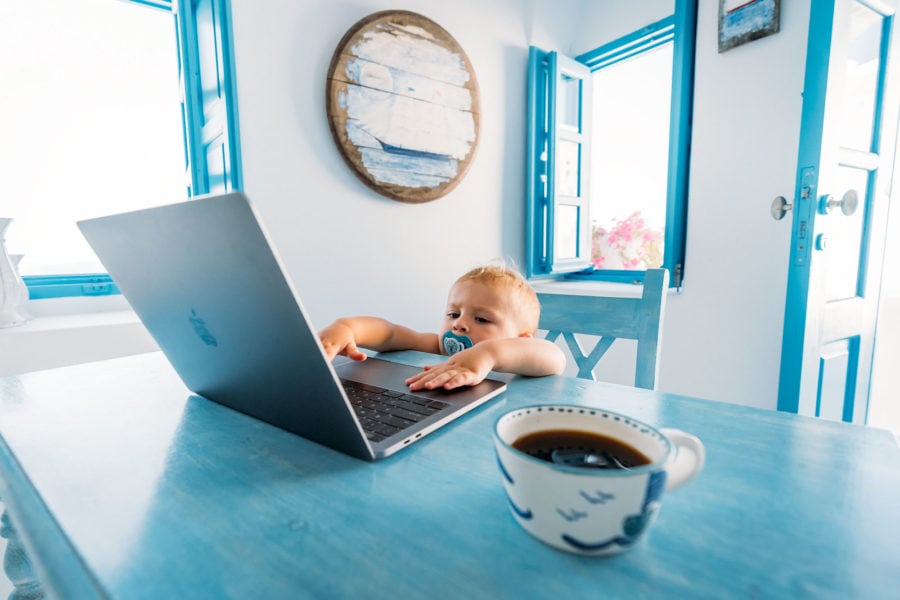 Nomadic Living
I'm a digital nomad. This means I can work from anywhere in the world. Here are some tips for how to become a digital nomad and travel long-term if you'd like to give it a try.
After 10-years working remotely as a digital nomad, living in foreign countries and traveling around the world while earning income online — I've learned a lot about nomadic living.
I've based myself in places like Mexico, Thailand, Nicaragua, Italy, Spain, and South Africa over the course of my travels. I've also visited over 50 different countries while working from my laptop.
In fact, I'm currently writing this article from a Greek island overlooking the sea. No, I'm not a toddler. That's my son above fact-checking my work!
Living as a digital nomad, you're able to see incredible places, learn from different cultures, and work when or where you want to — true freedom.
As the reality of a worldwide recession looms, location independence and remote work opportunities have become increasingly sought after. Lately I've been getting questions about how to become a digital nomad.
So I thought it was about time I put together a free guide sharing some of my best tips and advice for others who want to give it a shot!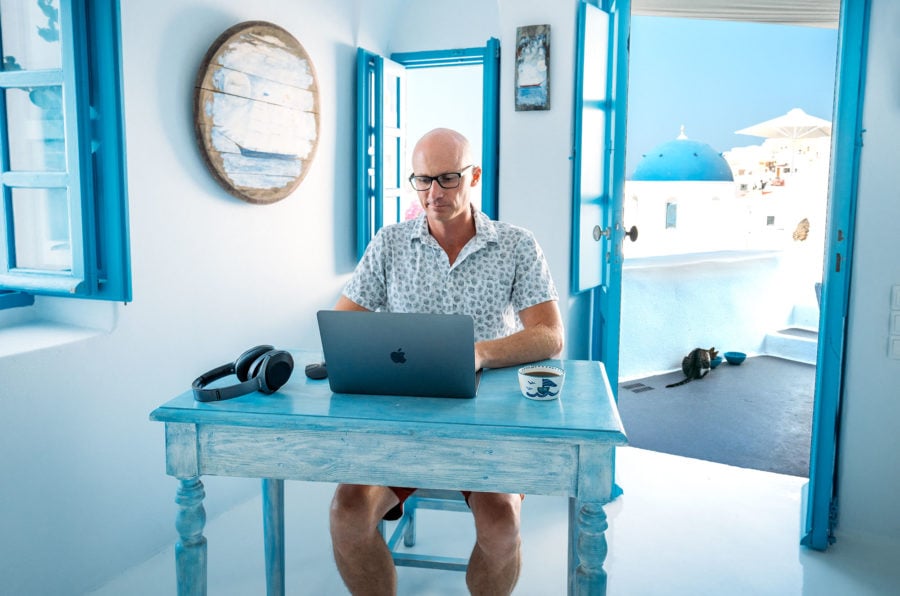 What Is A Digital Nomad?
Digital nomads are remote workers who travel to different locations on a regular basis. They often work from coffee shops, hotels, co-working spaces, or public libraries, using a laptop or smartphone with wireless internet to work from anywhere in the world.
There are many types of digital nomads out there. Some people travel around their own country by campervan or RV. Some live on sailboats, working from different ports of call.
Others stay in backpacker hostels or rent Airbnb apartments while flying from country to country.
Complete freedom of movement while working online is the general gist.
Pros & Cons Of Location Independence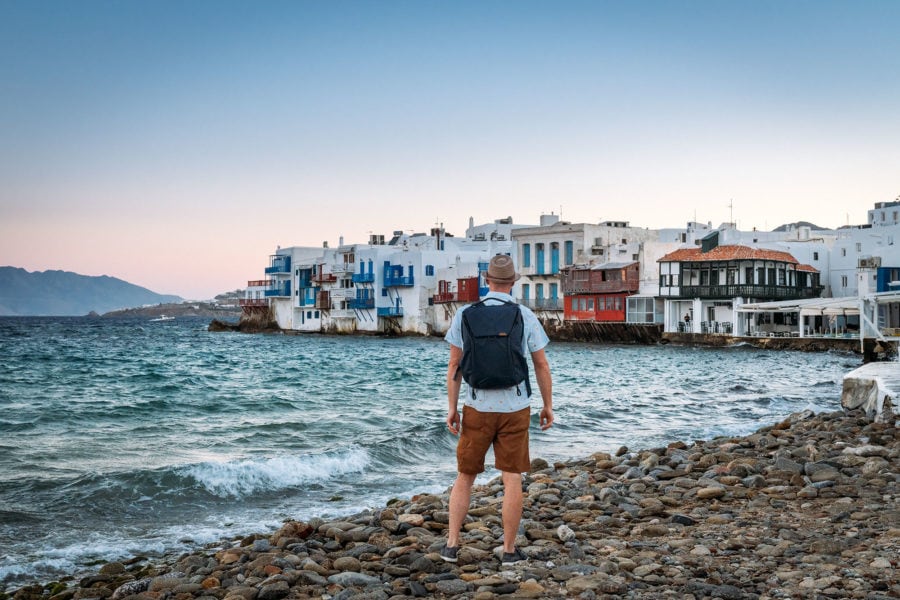 The Benefits
There are many upsides to the location independence that digital nomads enjoy. Who wouldn't want to check off their ultimate bucket list while working from a laptop anywhere in the world?
Save money living in a low cost-of-living area
The flexibility to live where you want
Ditch the toxic environment of office politics
Experience new cultures & make new friends
Learn new skills or languages
Broaden your mind through travel experiences
Set your own schedule and take time off when you want to
Spend winters on the beach, and summers in the mountains!
The Downsides
Working from anywhere is a dream for many people. But like all life choices, there are both pros and cons to a nomadic lifestyle. Here are some of the downsides:
Moving constantly is exhausting
Your productivity can suffer
Digital nomads often battle loneliness
Finding stability is difficult
A general lack of private space
Travel loses its luster & wow factor
After 10 years exploring the world, these downsides finally caught up with me, and I moved back to the United States with my wife and kid and bought a home.
That's not to say I didn't enjoy my nomadic life for all those years! Just for me, living out of bags for so long eventually lost its charm. I was ready to start a family, settle down, work from home, and travel less.
Yet because I've been around the block, I'm happy to share my experiences with those who are just getting started with the digital nomad lifestyle!
Tips For Becoming A Digital Nomad
STEP 1: Finding Remote Work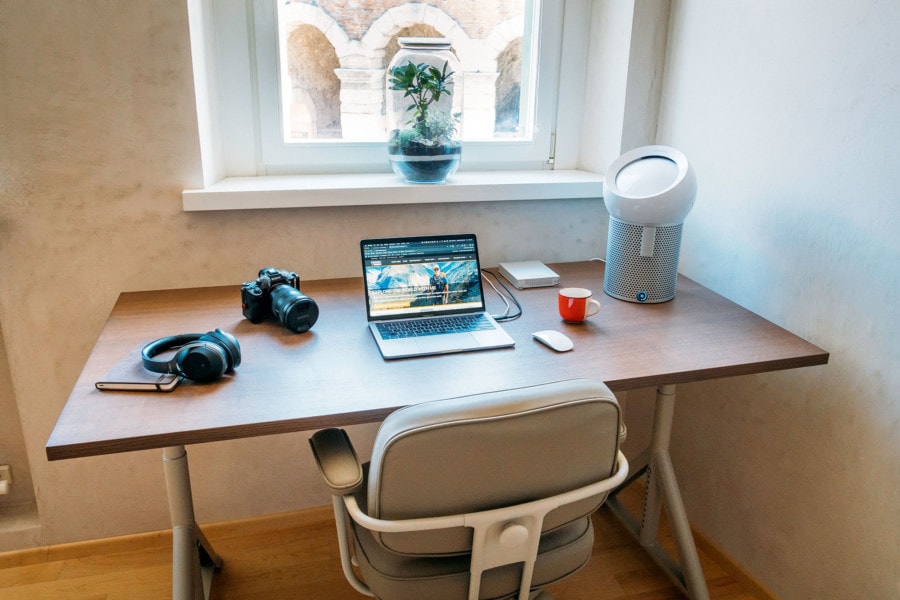 So, you're ready to give nomadic life a shot. Well before you can quit your job and travel as a digital nomad, you need to figure out how to make money online.
Luckily there are many options out there, which continue to grow each year as businesses downsize and hire remote workers to reduce physical costs like office space.
The global pandemic has only accelerated this transformation.
You can work for other companies remotely, or become an entrepreneur and start your own online based business.
Digital Nomad Job Examples
YouTubers
Customer Service
Consulting
Bookkeeping
Marketing
Freelance Writers
SEO Agency Work
Software Developers
Website Designers
Selling On Amazon
Creating Online Courses
Language Education
It would be impossible to list all jobs that can be done remotely, but these are some frequent examples I've come across during my travels. For an even larger list of jobs that allow you to travel, click here.
Personally, I run a travel blog. It's just what I'm good at, and what I enjoy. There are many types of blogging options out there — food blogging, DIY blogging, personal finance blogs, gear blogs, hiking blogs, photography blogging, etc.
If you're interested in starting a blog to make money writing about something you love, I recommend you
start here
.
Remote Work & Entrepreneurship Resources
Figuring out how you're going to earn money on the road is one of the biggest hurdles to location independence.
Unfortunately I can't tell you exactly what to do — everyone has their own skill set, experience, and preferences. You'll need to figure it out for yourself.
What I CAN do is point you in the right direction with the following books and websites that I've found super helpful over the years!
They helped me get to where I am today, so I'm sure they'll help you too.
BOOKS
WEBSITES
STEP 2: The Logistics Of Nomadic Life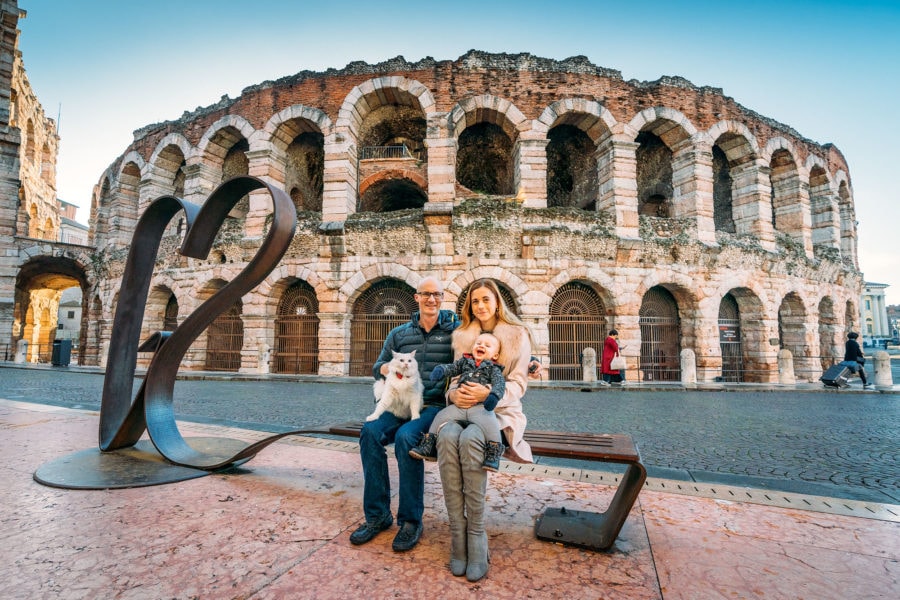 Ok, so you've found a way to earn income remotely. But there's much more to becoming a digital nomad.
Things you may not have considered like wifi availability, registering your business, banking, communication, physical mail, insurance, health considerations, where to stay, and much more.
So let's dive in!
Starting A Business
If you're starting a new business in the United States, it needs to be set up properly. Generally I recommend that people start as a sole-proprietor to make things simple.
Once you begin earning regular income, you can change it over to an LLC for some tax & legal benefits. Legal Zoom is a good site for registering your business in your state. It's what I used and they make it easy to do online.
Taxes For Digital Nomads
How do you pay taxes as a digital nomad? To keep it simple, Americans need to file taxes even if they are living overseas. This is not true for most countries.
There are some exceptions, for example if you spend most of the year outside the United States, and pay taxes to the foreign country you're living in, you can claim the Foreign Earned Income Exclusion, which allows you to avoid paying US taxes on up to $100,000 worth of income.
Some people set up companies based from digital nomad friendly countries like Singapore to reduce their tax bill.
If you're serious about becoming a digital nomad, you should eventually hire a good accountant who specializes in working with people who live overseas.
Banking For Digital Nomads
Managing your money while traveling can have its own set of challenges. For example, cards getting canceled when they're used from foreign countries, and how to get paid while living overseas.
I highly recommend picking up a Transferwise Borderless Account (their fees are cheaper than PayPal, but you should have a PayPal account too).
If you're not from the US or UK, Payoneer is also a good option.
Having a good travel credit card is also very helpful, like the Chase Sapphire Reserve. It has no foreign transaction fees, gives you free airport lounge access, and ultimately will help you score free flights the more you use it.
Staying Connected
What's the first question every digital nomad asks a hotel, coffee shop, or Airbnb owner? How fast is the wifi!
Digital nomads can only work when they have a fast & reliable internet connection, so it's incredibly important. Luckily you can find decent internet connections in many places around the world now.
I recommend downloading the SpeedTest App to help you determine connection speeds, and also read my guide on international cell phone service around the world.
Virtual phone numbers are also very handy — like from Google Voice, Skype, or MySudo. Signal is a wonderful secure messaging app that's far safer than Facebook or WhatsApp.
Using A VPN
The internet is censored in many parts of the world, so to ensure you can access the websites you want (plus an extra level of privacy), it's important to download a good VPN (virtual private network) before you leave. I use & love Private Internet Access VPN, they have an iPhone app too.
How To Receive Mail & Packages
Receiving mail when you're moving around all the time used to be a problem, but it's not anymore. Signing up for a virtual mail service like Earth Class Mail gives you a physical address to send important mail, with the ability to read your mail online and get it forwarded anywhere you want.
Insurance For Digital Nomads
Accidents happen. And without insurance, depending on the country you're in, you could be screwed. Luckily there are some good health insurance options specifically for digital nomads. The two most popular are Safety Wing and World Nomads. I've used them both!
You can learn more about insurance for nomads here.
Getting Around
Once you fly to your destination, there are a few ways to get around. Unlike the United States, many countries have much better public transportation systems in place. Buses, trains, and taxi service are all viable options.
In other countries, its possible (and not too expensive) to rent a motorbike or small car for months at a time. In Thailand and the Philippines I rented scooters, in Mexico, Spain and Italy I used public transportation and simply rented a car when needed.
Finding Accommodation
Booking.com is the best hotel & hostel search engine I've found for locating short-term accommodation. It's really easy to use.
Airbnb.com is where most digital nomads go if they want to rent a local apartment for a month or two. More convenient than local classified ads.
Coliving.com is a site that specializes in sharing long-term accommodation with other digital nomads around the world.
Making Friends
Isn't it lonely being a digital nomad? Sure, but there are ways to mitigate that feeling. Backpacker hostels are a fun way to meet other travelers, but it can be tough to get work done in a party atmosphere like that.
Working at a cafe or co-working space is one way to put yourself in a position to meet like-minded people no matter where you are.
There are expat communities in virtually every country, and you'll be able to find other foreigners who are looking to meet new people. There are also some good digital nomad Facebook Groups like Global Digital Nomad Network and Digital Nomads Around The World.
You can go to local events, festivals, take a language class, search for local meetup groups through MeetUp.com or Couchsurfing.com
Of course, there's always Tinder too!
Emergency Backup Plans
When you're traveling by yourself overseas, it's always wise to have an emergency fund set aside for, well, emergencies. A death in the family, a car accident, getting robbed, running out of money, political unrest, natural disasters, a worldwide pandemic, alien invasion, etc.
You want to be able to fly home quickly, and have enough money for accommodation if needed, and maybe to ride out a few months without any income. You never know! Make sure to read my guide to travel safety too.
I'd recommend setting aside $3000 – $5000 in a separate checking or savings account that you won't be tempted to touch while you're traveling.
STEP 3: Where To Go?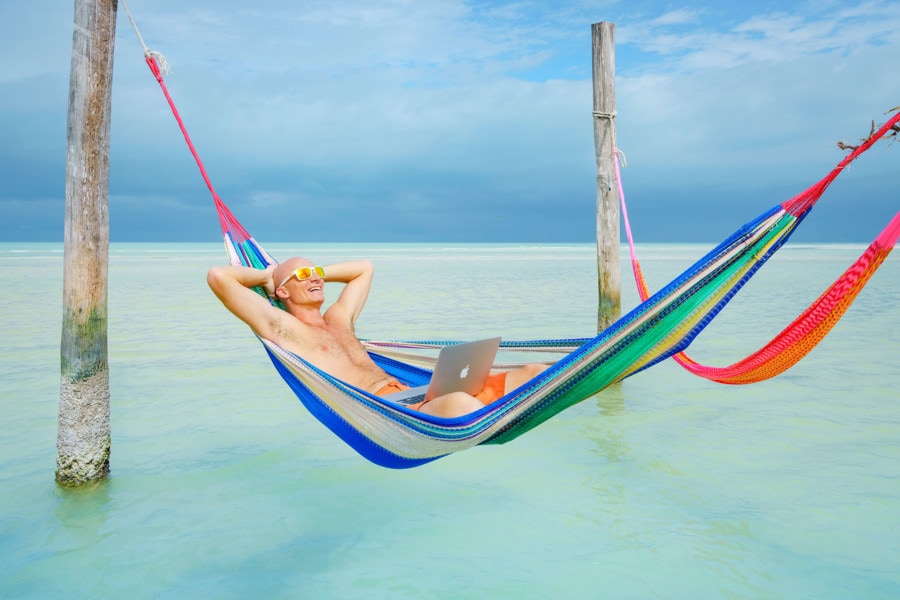 Working On Tourist Visas
Most digital nomads travel on tourist visas, which is kind of a legal grey-area. You are not technically supposed to "work" on a tourist visa.
Unfortunately digital nomads are not well understood in many parts of the world, and the laws are not set up kindly for us. While we are technically working, we're not taking jobs away from locals — which is what work visas try to prevent.
When immigration asks what you're doing in their country, most digital nomads say "tourist".
When officials ask what I do for a living, I say I work in marketing, and I'm traveling on vacation. Keep it simple. Complicated explanations will get you pulled aside for more questioning, and possibly denied entry if they don't like or understand your answer.
Digital Nomad Work Visas
There are a few progressive-thinking governments out there that have been trying to attract digital nomads to come live and work in their countries. They've created special remote work visas that you can apply for.
Popular Digital Nomad Destinations
Many digital nomads seem to congregate in certain "hub" countries due to a combination of low-cost living, decent internet access, and the ability to renew tourist visas over and over again.
I've lived in a few of these locations over the years. Below are some of the most common ones, but you can do even more research on this website.
Thailand
Indonesia
Mexico
Portugal
Hungary
Spain
Germany
But you don't need to live in a foreign country to be a digital nomad.
There are many remote workers who live in their own country — for example I lived temporarily in Colorado, California, Texas and now Utah over the past few years.
Many digital nomads buy RVs or convert vans into homes too.
The key is location independence — freedom to move without many obstacles.
STEP 4: Making The Digital Nomad Leap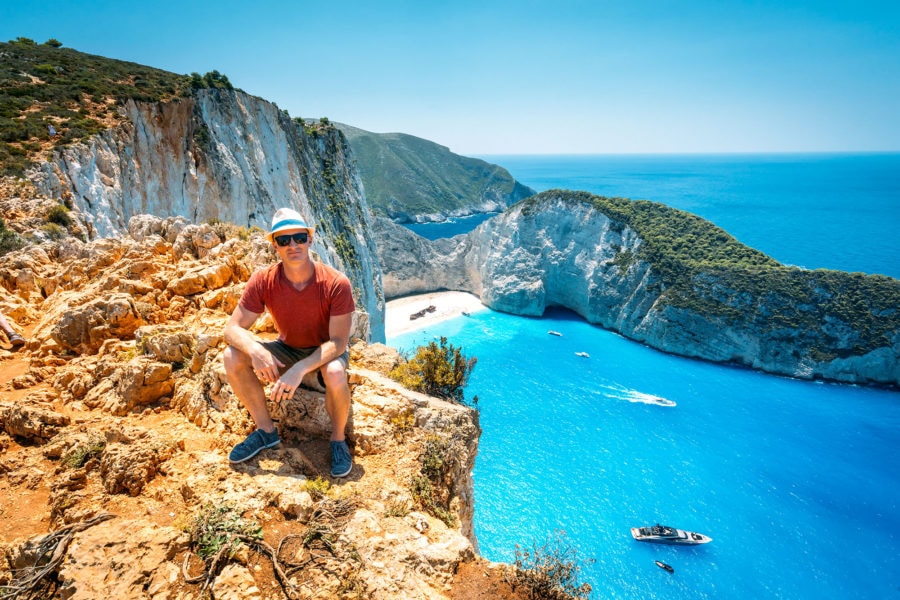 Saving Money
While it's certainly possible to travel very cheaply, it's not free, and you'll need to save some money before starting your adventure around the world.
If you currently have a day job, you'll need to try and downsize your lifestyle, spend less, maybe find a way to earn some side income, or take on a second part-time job on nights and weekends.
I DO NOT recommend quitting your day job until you either have a very healthy savings account that will pay for your travel, or you've already built up a side-hustle that is making regular income.
It's not fun running out of money in a foreign country!
Build your online business first, or find a job that allows you to work remotely before leaving to travel as a digital nomad. Here are some articles to help:
Getting Rid Of Your Things
There was something magical about selling or donating most of my worldly possessions back before I left the country. I swear it was therapeutic.
Embrace minimalism, and start listing your crap on Craigslist, Ebay, and Facebook Marketplace. It will be hard to part with things at first, but it eventually becomes addicting.
You can keep sentimental stuff like photos, important papers, or special heirlooms with family members or rent a small storage unit.
Optimizing your life to fit inside a backpack, you'll soon realize just how little we really need to survive.
Dealing With Criticism
Trying to explain to family and friends that you want to quit your job and travel around the world is often a difficult endeavor. Most people won't understand or support your choice.
Choosing to ignore the critics and try anyway can be tough for many people, myself included.
If everyone you know and love is telling you it sounds like a bad idea, you'll start second-guessing yourself.
Just know that there are tens of thousands of expats and digital nomads out there doing this, so you're not alone.
Tell them you're taking a Gap Year or Sabbatical, just as an experiment. Send them some books or articles to read, just like this one.
If your digital nomad experiment doesn't work out, you can simply come back and get a "real job" again. It's not the end of the world!
A Little Dose Of Reality…
In our heavily marketed online world, it seems everyone and their grandmother is trying to sell you a course or workshop touting the miracles of making money online and/or traveling the world.
Unfortunately there's lots of smoke & mirrors out there, and it can be daunting trying to figure out who is legit, and who's just full of sh*t.
After 10-years working online, I've seen everything. The reality is that people CAN make money online and travel as digital nomads — but not everyone is successful. Some people just aren't cut out for the lifestyle or running the business side of things.
But the same is true for any new endeavor, whether it's opening a restaurant or going to medical school. If it was easy, everyone would be doing it!
It's not easy. Becoming a digital nomad takes time, sacrifice, and hard work.
Still with me? Great!
I know that was a long post. We're just scratching the surface too — I'm writing a lot more on this topic soon, so make sure to sign up for my
free monthly newsletter
to get all my latest updates!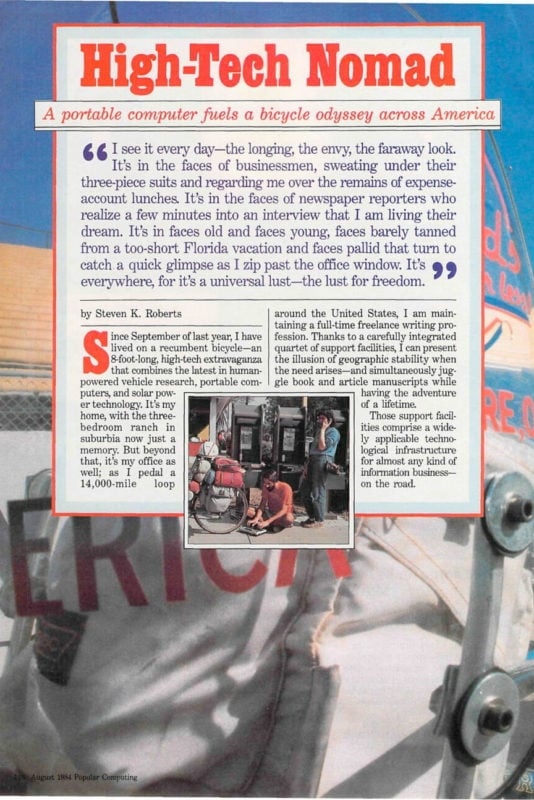 History & Future Of Digital Nomads
Now before I lose your attention to something else on the internet today, I wanted to share some fun digital nomad history with you.
Like the very first digital nomad — a guy named Steve Roberts who biked across America in 1984 while working from his Radio Shack Model 100 personal computer!
Writing articles from the road, then uploading them to his assistant in Ohio via a pay phone and a CompuServe account.
It was revolutionary at the time, but look at us now…
These days I can post social media updates from a remote backpacking trip in the mountains of Afghanistan via satellite!
Remote work is only going to get easier in the future, as more companies realize they don't need a physical office space anymore and new technologies like Elon Musk's high-speed satellite internet service Starlink go online.
The future is looking bright for digital nomads and remote workers! ★
Enjoy This Post? Pin It!
READ MORE TRAVEL TIPS
I hope you enjoyed my guide to becoming a digital nomad! Hopefully you found it useful. Here are a few more wanderlust-inducing articles that I recommend you read next:
Have any questions about working as a digital nomad or long-term travel? Drop me a message in the comments below!
This is a post from The Expert Vagabond adventure blog.