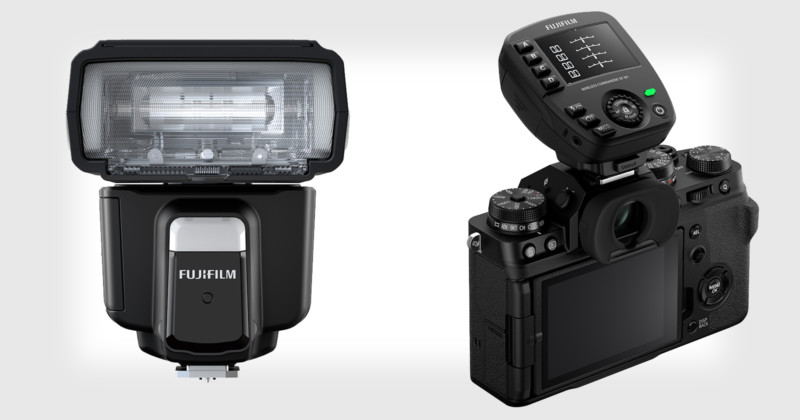 While everyone was paying attention to Sony, Fujifilm decided to announce a couple of new products of its own early this morning: the very first radio-controlled Fujifilm speedlight a 'wireless commander' for Fuji X and GFX system cameras.
The Fujifilm EF-60 is a hot-shoe mountable radio-controlled flash gun that tries to pack professional features into a very compact form factor.
It features a zoom range of 24mm to 200mm, a guide number of 60 at 200mm, and a bright white LED modeling light build into the flash itself. Power can be controlled in 1/3 stop increments, and if you pair it with the new EF-W1 Wireless Commander (i.e. trigger) you can change settings and fire it off-camera as well. As a bonus, the EF-60 is also compatible with the Nissin Air System (NAS), allowing you to use it with the Nissin Air10s Remote or integrate it with other NAS flashes.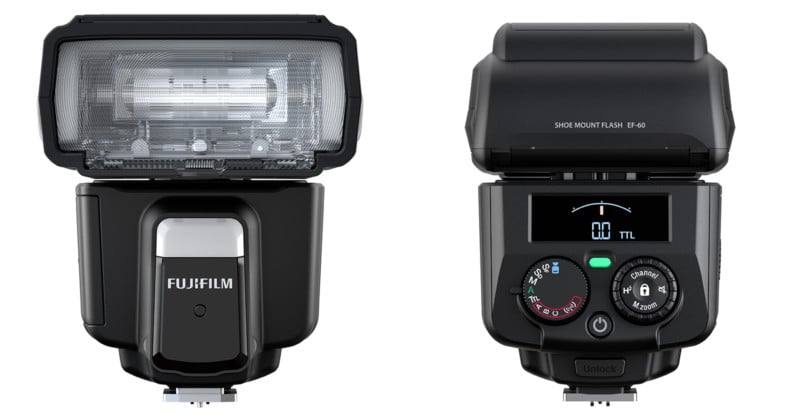 The other product announced today is the Fujifilm EF-W1 Wireless Commander, which is basically a Fuji-branded Nissin Air10s Remote. The EF-W1 is a 2.4GHz flash trigger that will allow you to take full control of the EF-60 and other NAS flashes, with support for TTL, Manual, and FP High-Speed Sync.
The remote features support for up to 3 groups and 8 channels and both the new flash and the trigger are fully compatible with most Fuji cameras out there, including: GFX100, GFX 50S, GFX 50R, X-H1, X-Pro2, X-Pro3, X-T1, X-T2, X-T3, X-T4, X-T20, X-T30, X- E3, X100F, X100V.
Both the EF-60 Speedlight and the EF-W1 Wireless Commander are available to pre-order starting today for $400 and $200, respectively, with shipping scheduled for late August. To learn more or pre-order yours, click here.