Given all of the overheating controversy and the intense focus on the camera's 8K and 4K video capabilities, you'd be forgiven for forgetting that the Canon EOS R5 is also a stills camera. But Gordon Laing at Cameralabs didn't forget, and he's reviewed this camera specifically for stills photographers.
The full review and all of the included samples were captured using a boxed, full-production unit of the Canon EOS R5, so no "pre-production" warnings here. It's just a proper review of all the things that matter to stills photographers: resolution, noise, dynamic range, autofocus performance, IBIS with and without a stabilized lens, and continuous shooting capabilities, just to name a few.
The review covers a lot of ground, so here's a "table of contents" with time stamps in case you want to jump around:
Handling and Build – 1:21
Photo Quality and Image Formats – 2:23
Resolving Power – 3:57
Noise Levels – 6:09
Dynamic Range – 9:00
IBIS – 10:05
Autofocus Performance – 13:09
Drive Modes and Continuous Shooting – 15:31
Pulling Stills from 8K Video – 19:46
Portrait Lighting Feature – 20:47
GPS Tagging – 21:44
Long Exposure Shooting and Multi-Shot Modes (Bracketing, Interval Timer, etc.) – 22:18
Sample Images – 23:04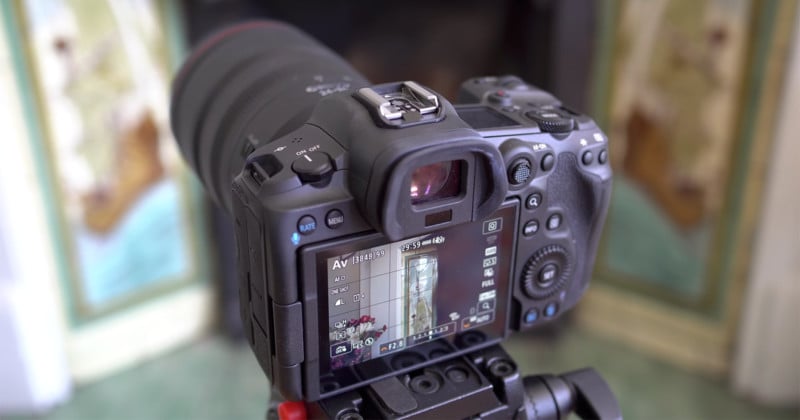 Two of the most impressive parts of the review are Gordon's tests of the camera's Noise performance and the new Dual Pixel AF II autofocus system.
The Noise test shows how close Canon has come to closing the gap between its sensors and Sony's industry standard BSI CMOS chips you'll find in most other full-frame mirrorless cameras. In terms of AF, both the human and animal Eye AF perform exceptionally well on the R5, even in low light and challenging situations, confirming what we already shared a couple of weeks ago. Gordon calls the AF system "one of the most effective on the market" and a "major upgrade" over the EOS R and RP.
All of this to say that event photographers like wedding shooters–no doubt one of the main targets for this camera from a stills perspective–are going to be delighted by the camera's performance in two areas that matter a great deal when you're shooting in a dimly lit church ceremony or capturing candid photos on a chaotic dance floor.
Check out the full video review up top to see the camera in action, or head over to the Cameralabs website to read a written version that dives into even more detail.