Living in the NYC area means you're living around one of the greatest cities in the world — a city that now I've personally seen fall to its knees twice. Once on September 11th. And now during COVID-19.
Like many photographers in my area, the desire to document the naked streets of Manhattan its not just a strong feeling; it's almost a responsibility (or duty). During early the early onset on the virus I, wedding and portrait photographer Vanessa Joy, had my hands on two, unreleased, pre-production Canon R6 cameras.
I knew I couldn't sit by and not photographically journal the jarring, historical time in my area. So I did my best, as a non-landscape or street photographer, to take photos and video of what I saw and experienced.
Setting out to photograph spots that I often work in and major NYC areas, I knew I didn't even want to leave my car to do so. So little was known about the coronavirus at that time that I didn't want to risk even stepping foot on the NYC concrete sidewalks. So, I drove around and took pictures of the empty Manhattan streets from my driver's side window and through the front windshield. The stillness of Manhattan was absolutely haunting.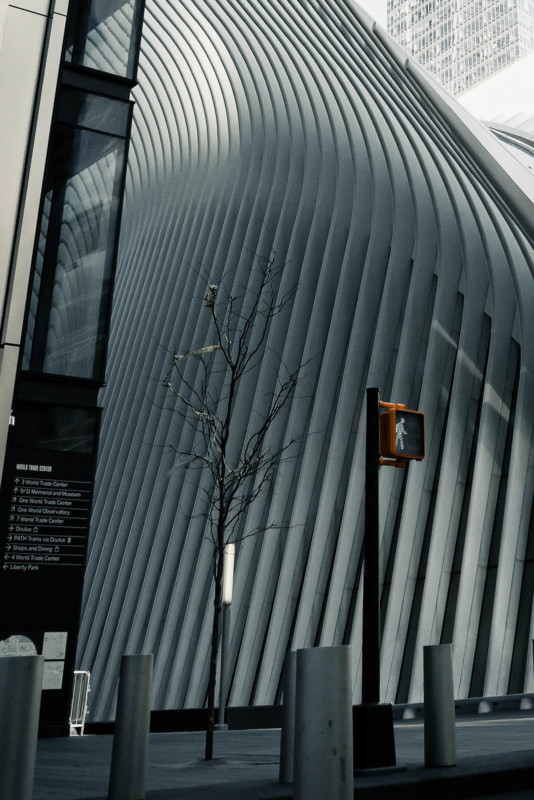 Places that I knew so well were deserted. Stores were boarded up. The very life of New York City that I love was nowhere to be found. It was almost unrecognizable. There were very few people with masks on at this point since this was well before masks were mandatory in NYC.
It was before it got worse, at the very beginning of it all, and we were all quite unsure of what was to come.
I saw normal things like people hanging out and having a smoke on front doorsteps. I saw new things like UPS drivers with masks on. There were parking spots everywhere I went, which if you know anything about New York City you know that's very rare. The traffic in the normally overcrowded streets was so little that I almost forgot to look both ways before crossing 5th Avenue when I did decide to walk into Central Park.
There I was met with the eerie sound of silence, accompanied only by a single old man playing his accordion mostly for himself. But as I kept walking, maintaining distance not just for the sake of 6 feet, but also for the sake of not letting anyone see the super-secret Canon EOS R6 I was using, life appeared. I saw children playing, lovers sitting on a rock, and joggers enjoying being able to use the street. I saw… hope.
Publishing this coronavirus vlog so many months later, so many degrees worse… it is a little surreal since we're all still in it and so much has happened since. But my last statement in the vlog remains the same. I have hope.
---
Author's note: Still images and video footage were captured using a pre-production model of the Canon EOS R6. Not final.
---
Gear used: Canon EOS R6, Canon RF 70-200mm f/2.8 L IS USM, Canon RF 15-35mm f/2.8 L IS, Canon RF 24-70mm f/2.8 L IS, Canon RF 24-105, and RodeLink.
---
About the author: Since 2002, Vanessa Joy has been photographing couples and educating pros worldwide. She focuses her business in the NJ and NYC area, and alongside her partnerships as a Canon Explorer of Light, Profoto Legend of Light and Adorama Syndicate she helps pros take their businesses to the next level. You can find more of her work on her website, YouTube, Instagram, TikTok, Facebook, and Twitter.