Last month my fiance (Corina) and I (Matt) did something we'd never done before. We ran a virtual photography exhibition.
At the start of 2020 this was not something we had planned to do. We'd actually planned something very different, but like so many of us, our plans were forced to change due to a global pandemic.
We initially planned to run our very first physical exhibition together, with the goal of sharing our passion for Street Photography and raising money for a worthy cause. We even booked an amazing store front in our city centre. But then COVID-19 came along and with the social distancing rules and a national lockdown, our physical exhibition was no longer possible.
Not known for our patience, rather than wait another year, we started looking into virtual options for our exhibition. We were surprised to find very little in terms of examples. So we got creative with ways we could bring the best bits of a physical exhibition online.
In this article we're going to share both the benefits and challenges we discovered of running a virtual exhibition vs a traditional physical exhibition, as well as what we would do differently next time around.
If you're curious about running your own virtual exhibition, this is what we learnt from our experience.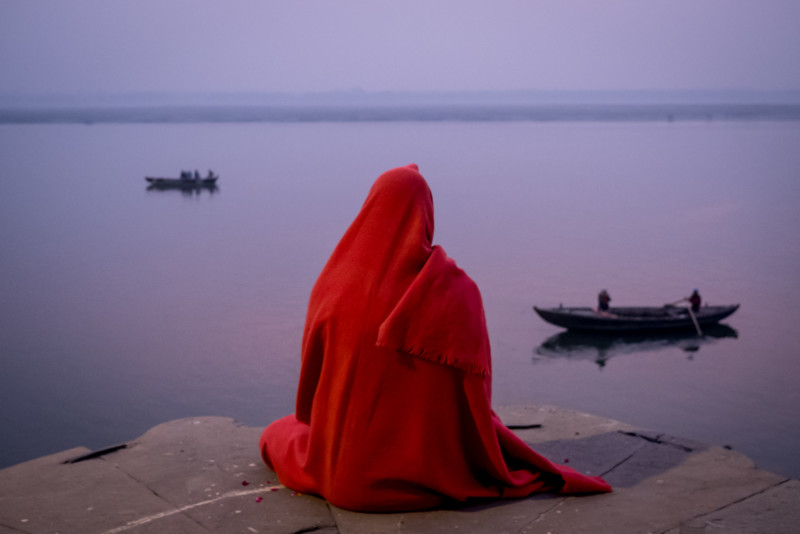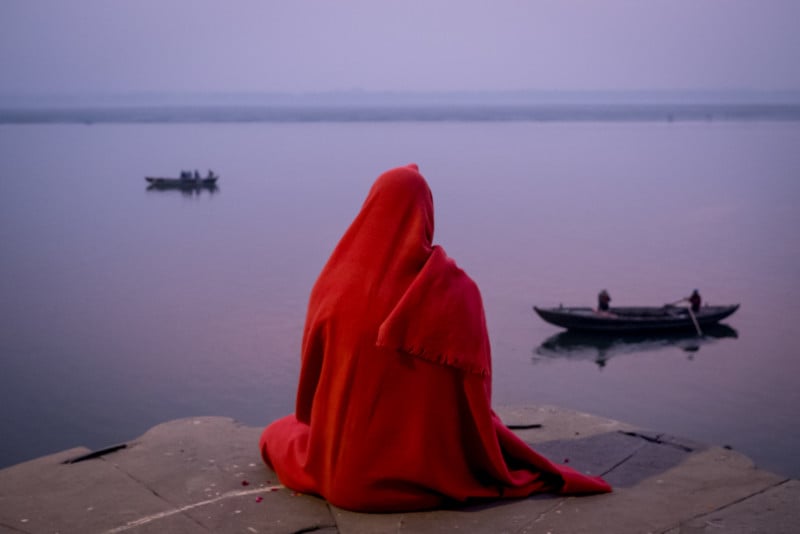 ---
WHAT WE DID
After a few weeks of planning and exploring different options, we decided on a mix of 3 different platforms that would make up our 2 weeks Virtual Photo Exhibition – Street Stores From Afar.
3D Virtual Gallery
This was the bit we were most excited about. After a lot of Googling we uncovered a website (Kunstmatrix) that let you create a 3D Gallery that you could actually walk around. You had the option to choose the number of photos on show (we chose 44 photos; so 22 each) , the number of rooms that made up your exhibition, the colour of the walls and more. It was fairly easy to create and no coding knowledge was required (perfect for less techy photographers like ourselves).
A really powerful feature they offer is the option to add audio to each image. We used this to share stories about the photos and describe how they were taken.
We looked at a few other options but we found that Kunstmatrix showcased the images in the highest quality and offered the most features. It was also affordable at $12 per month per exhibition.
The response we received from the 3D Gallery has been very exciting.
A Print Gallery
An important part of the exhibition for Corina and I was raising money for our chosen charity. For this we needed a way for our audience to purchase Prints with ease.
As pro wedding photographers we already have access to Online Galleries which we offer to our clients. I use Pixiset and Corina uses Shootproof. Not only are these galleries beautiful and easy to navigate, but they also allow you to automate the printing ordering and delivery process by fulfilling with a local print supplier. Once you've set it up, you don't have to click a single button when orders come through. For the service the print suppliers do take a little more money so whether you choose to go with this option or self-fulfil orders yourself is a questions of convenience vs cost.
If you don't already have access to an online gallery we'd recommend using Pixiset's Basic Plan ($10 a month). Alternatively you could set up a manual fulfilment by creating a page on your website with images of the photos you are offering, a price list and an email address people can use to place orders with you.
An Instagram Exhibition
With street photography being such a passion for us both, we wanted a way to dive into behind the scenes stories of our trips.
We also wanted a way to better engage with our audience. After all this was one of the elements we were most excited about with having a physical exhibition (being able to share stories with people who walked through the door and answer their questions). We thought about the best way to try and replicate engagement with our virtual version and rested with Instagram.
We created a series of carousel posts (2-3 a day) with 10 photos each and text that dove into different stories from our street photograph adventures.
As we were running this part of the exhibition separately (each sharing our own photos on our Instagram accounts), we used stories to cross promote each other, as well as our own posts.
We also ran a couple of Q&As on Instagram live for increased engagement.
---
THE BENEFITS OF RUNNING A VIRTUAL EXHIBITION
Exposure
One of the big limitations of a physical exhibition is reaching your target audience. Unless they live in the area you're running your exhibition or are willing to travel to it, you can't get in front of them. If your exhibition is focused on a local issue, that'd be OK, but most exhibitions are attractive to people in many areas.
With a virtual exhibition it's different. You have the potential to get your work in front of anyone, around the world, with an internet connection and they can access it from the comfort of their homes.
You do have to work to get your exhibition out there (we talk more about that below as one of the challenges) but your potential reach is so much higher than with a physical exhibition.
During the 2 weeks it ran, our exhibition was visited by 923 unique people. This was almost 3x the traffic we were expecting for our physical exhibition over the same time period. From the lessons we learnt from this experience (more about these below) we'd hope to reach even more people next time.
Costs
The physical exhibition was going to cost us $320 to rent the space (for a week) and an estimated $250 for the prints that we would hang in the space. It came to a total cost of $570.
I'm not including the cost of the prints we were selling as we were doing these per order so the costs would come out of sale of the prints. This would also have been the same whether the exhibition was physical or virtual. For the same reason I've not included the cost of any paid advertising (an option we didn't go for this time around).
For the physical exhibition we paid $12 for the 3D Gallery (for a month) and that was it. As we already had a subscription to a print gallery for our wedding businesses we didn't need to pay for this service. If you don't already have this service available, we'd recommend Pixiset's Basic Plan ($10 a month).
So the total cost of running a virtual exhibition came to $22. That's 26x cheaper than running a physical exhibition.
Going virtual goes a long way to remove the risk of making a loss on your exhibition; especially if you're running an exhibition for the first time and are unsure how much money you'll make from prints.
Duration
The cost of renting a space is one of the main limits to how long you can run a physical exhibition for. Good spaces in great locations with higher foot fall usually don't come cheap. We found a great space in the centre of Brighton (UK) for our exhibition but it was going to cost us $250 a week.
In comparison it was only $12 a month to rent the 3D Virtual Gallery we used for our virtual exhibition.
There's also your time to consider. While with a virtual exhibition you can leave it running for people to enjoy even as you sleep, a physical exhibition needs you to be in the room. If you're not there, people can't experience it.
While we chose to run our virtual exhibition for 2 weeks (limited time events create a sense of urgency and fear of missing out) we've been able to leave the online 3D Gallery open for longer and based on our analytics it's still getting about 50 visits per week.
The Experience
Trying to create an impactful experience for our visitors was something we put a lot of thought into. Initially we were worried that we wouldn't be able to match the experience of visiting a physical exhibition – being able to see the photos in all their glory and interact with us and ask us questions about the stories behind the photos.
After finding a platform that we could create a 3D Gallery (by Kunstmatrix) that you could actually walk around we got very excited. We were especially impressed with how good the imagines looked in this format. A view that was echoed by a lot of our visitors.
An element of the 3D Gallery that really added a lot of value was the audio component which allowed you to add audio to each individual image. There's a lot of potential to use this in different ways. We chose to use the audio to share stories from behind the photos and education in form of street photography tips. We received almost as many comments about the audio recordings as the photos themselves.
We found the audio element to be a big advantage to a physical exhibition where although you'd be able to speak to the photographers who took the photos, you couldn't expect them to go over every photo with you. It's also great for visitors with a more introvert nature who may not feel as comfortable asking questions.
To make the experience more engaging we also held a couple of live Q&As with our visitors as a part of our instagram exhibition.
Boost Your Business
Corina and I are both wedding photographers and while our exhibition had nothing to do with wedding photos (it showcased out street photography work) it still turned out to have a positive impact on our businesses.
A number of our previous wedding couples got in touch with us after seeing the Exhibition and asked how they could support us during this challenging time. This has already led to several testimonials for our websites, Google Reviews and a couple of wedding enquiries from their friends. I also got a booking last week from a couple who discovered me through our exhibition.
While this was never a goal of our exhibition, it's been a nice bonus. Especially given the difficult time our industry is experiencing at the moment because of the pandemic.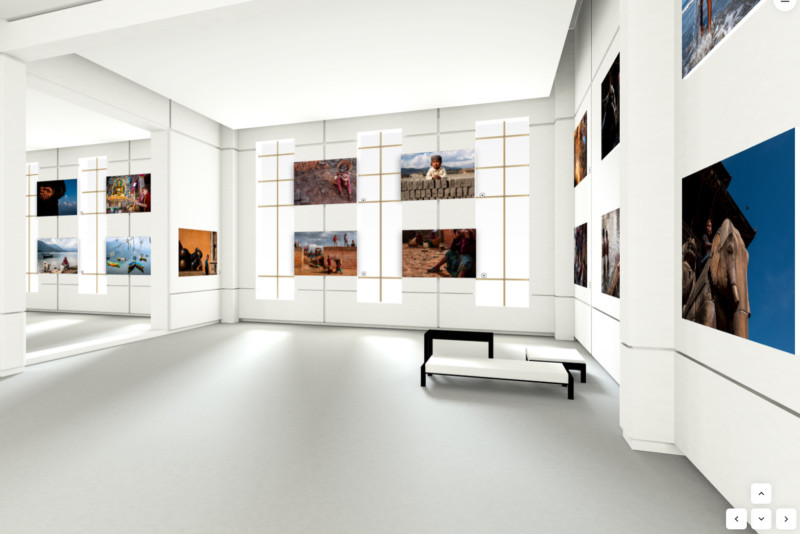 ---
THE CHALLENGES OF RUNNING A VIRTUAL EXHIBITION
Exposure
In the above section I mentioned that one of the big benefits of running a Virtual Photo Exhibition is the large potential exposure you can get. Significantly more than you can expect from a physical exhibition. The down side is that it does take a lot of effort to transform this potential into actually visitors.
There is such a waterfall of information online and on social media that it can be difficult to stand out above the noise. And unlike a physical exhibition based in a good location, you don't have the benefit of street footfall.
The saying – if you build, they will come – doesn't hold true anymore. You could create the most stunning exhibition in the world, but if you don't have a plan on how to get it in front of people and you're not willing to put in the work, its success will be limited.
Photographers with an existing large online presence /social media following will have a starting advantage here, but even with a small following (Corina and I have roughly 2,200 Instagram followers between us) it can be done.
Think about which type of people would be interested in your exhibition and then try and connect with those communities. For our exhibition we gained exposure from street photography groups, travel photography groups, supporters of the charity were were raising money for and educational photography groups interested in how we created the exhibition. This was in addition to exposure from our family, friends and existing contacts.
Time
We definitely underestimated the time it would take to prepare all the content needed for our exhibition.
There are a number of tasks that you have to do for both a physical and virtual exhibition a like. You need to come up with a purpose, select images, arrange them in a way that best tells a story, set up a payment system for prints etc.
In addition, for our virtual exhibition we had to record audio for ever photo, select photos for our Instagram exhibition, write text for all our posts and run multiple Instagram and Facebook lives. We also had to spend even more time promoting our exhibition to help it stand out above all that digital noise.
If you want to do it right and have an impact, you will need to dedicate time for your exhibition. We set aside the best part of 2 weeks to prepare for our exhibition. Based on our experience we'd recommend the best part of 3 weeks.
---
LESSONS: WHAT WE WOULD DO DIFFERENT NEXT TIME
Build More Hype
In the lead up to our exhibition we posted a couple of teaser posts on social media, created a Facebook event and organised a Zoom Launch Party for about 40 select people. While all these bits went well (especially the Zoom Launch Party), in hindsight we wished we'd invested more time in building hype for the exhibition.
We realised that with so much noise out there, it is tough to get people's attention and build up excitement for something.
During the launch a lot of people were impressively surprised by the quality of the 3D Gallery we'd created. While this felt amazing to hear, it was evidence that we hadn't successfully built enough hype and correctly set expectations.
If we did it again we'd start building hype 2 weeks in advance (rather than a few days), create a short teaser trailer to share on social media and do some lives and stories to get people excited.
Have Content Prepared Beforehand
We highly recommend you aim to have all your content prepared before your exhibition begins. This will free you up during the exhibition to engage with your audience (through comments, live Q&As, Launch Party event etc), fix any issues that might crop up, add any extra value you may think of and most importantly – enjoy the experience.
We certainly underestimated the time it would take to create all our content. This led to added stress during the exhibition and less sleep. We also had plans to create some videos to build extra engagement, however sadly we ran out of time to do these.
Next time we'd set aside a few more days to prepare the content.
Spend Less Time On Instagram Written Content
The main feature of our Instagram Exhibition was daily posts (usually 2-3 a day) with included 10 photos in a carousel and text. We wanted to use these posts to dive deeper into stories and experiences from our street photography trips. For most posts, we reached the max of 2,200 characters. As you can imagine, writing about 25 of these posts took some time.
In hindsight, we wondered how many people read the posts in their entirety and whether the value added was worth the time and effort compared to other elements of the Exhibition.
Next time I think we'll keep the text in the posts a lot shorter.
Run More Instagram & Facebook Lives For Increased Engagement
Maximising engagement with out Virtual Exhibition was a key goal of ours from the beginning. One of the ways we did this was by running some live Q&As on Instagram.
Neither Corina or I are what you would call naturals when it comes to Social Media, especially running lives. Our first ever Instagram live was actually the one we did for this exhibition. So it wasn't until after that we really understood the value of them. Not only was it great interacting with our audience during the live but we were also surprised by the number of people that viewed it afterwards.
Next time we'd like to utilise lives (both Instagram & Facebook) to greater effect. In addition to running more Q&As we'd also do lives on why we're doing the exhibition, how different bits work and share stories behind some of the most popular images.
---
CONCLUSION
Given the social restrictions currently in place because of COVID-19, the virtual exhibition proved a fantastic alternative to our original plans. It allowed us to showcase our images, feel really good about our work, share our passion and engage with an amazing audience while also raising money for a worthy cause.
Across the 2 weeks we raised nearly $1,400 USD for World Vision's COVID-19 Emergency Response which is currently doing incredible work supporting the most vulnerable communities around the globe.
While it wasn't our initial plan, we got far more out of running a virtual exhibition than we ever expected. Post pandemic, if we had a choice between running a physical or virtual exhibition in the future, we'd probably pick the virtual option again.
---
About the author: Matt Badenoch is wedding and lifestyle photographer based in the cultural mixing pot that is London. To see more of his work, visit his website or give him a follow on Facebook and Instagram.