Last week, NASA's Mars Rover Perseverence landed safely on the Red Planet. After sending back a few initial images, NASA has followed up with a stunning 360-degree interactive photo that lets you get a full view of the area around the rover.
Perseverance initially sent back two images taken from its object avoidance cameras before sending a few more the next day. At least one image of the drone descending to the planet is truly breathtaking.
The video above, which is a short 1-minute long but can be replayed while you explore the view, is the first of NASA's Perseverance rover taken from its landing site on Mars, as captured by the rover's color Navigation Cameras, or "Navcams." The Navcams are on the remote sensing mast (or the "head") of the rover.
NASA says that the Perseverence possesses the most cameras of any Mars rover to date, with a total of 19. While published just today, these images were captured two days ago on February 20, 2021.
Considering the distances and complications in sending data between Earth and Mars, it is actually incredible that we are graced with this 4K look at the surface of Mars a mere two days after it was taken, on Youtube for all to see. This experience is truly a marvel of modern science.
Along with the above interactive photo, NASA has uploaded a series of other images taken by the rover, a sampling of which are below. The full archive can be found here.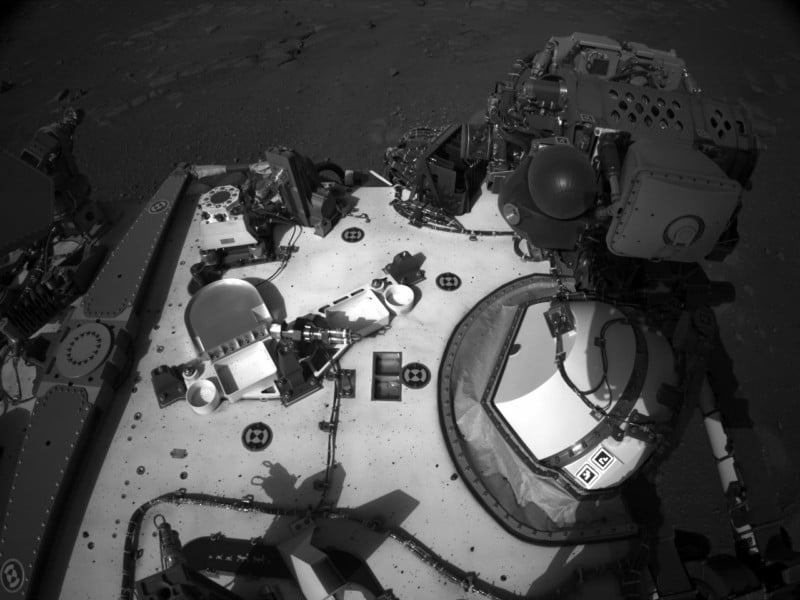 Additionally, a video showing the rover landing on Mars was uploaded:
If you are curious what Mars sounds like, the Perseverence uploaded this clip that will play the sounds captured by the rover:
The quality and volume of visual and audio content that is being fed back to Earth from Perseverence is extraordinary. The rover has been on the planet for less than a week and already Earth has been graced with some incredible sights and sounds from our planetary neighbor. More is sure to come as the rover continues on its mission.
"A key objective for Perseverance's mission on Mars is astrobiology, including the search for signs of ancient microbial life," NASA writes. "The rover will characterize the planet's geology and past climate, pave the way for human exploration of the Red Planet, and be the first mission to collect and cache Martian rock and regolith."
To learn more about the Perseverance Rover, NASA has an information-rich site you can visit here that should answer most, if not all, the questions you might have on the rover itself as well as the mission goals.