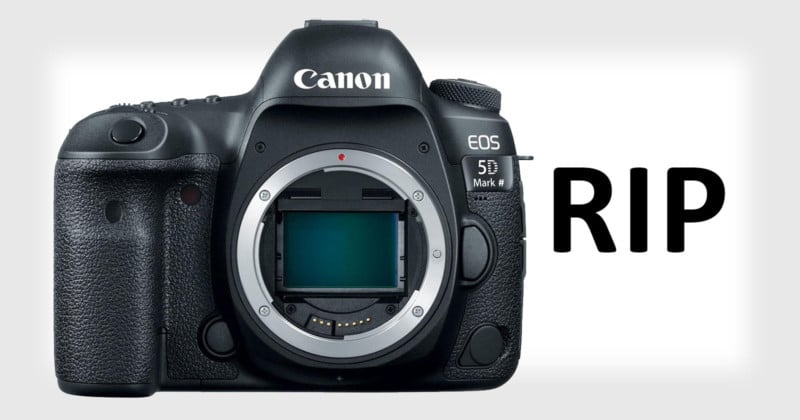 If you love the Canon 5D Mark IV DSLR and have been waiting for its successor to be announced, brace yourself for a big disappointment: Canon has reportedly decided to discontinue its popular and pioneering 5D line of cameras.
Canon was, as recently as October 2019, said to be working on the 5D Mark V for a release by the end of 2020. But with a big push toward mirrorless cameras and the industry struggling with the economic devastation caused by the COVID-19 pandemic, it seems that the camera has now been erased from Canon's roadmap.
Canon Rumors is hearing from a reliable source that there will not be a Canon 5D Mark V and that there will be no direct successor to the Canon 5D Mark IV.
"I have been told that the EOS 5D series is going the way of the EOS 7D series," Craig Blair of Canon Rumors writes. "The source claims that the EOS 5D Mark V development was stopped 'some time ago' […]"
Given that there are still quite a few photographers who prefer DSLRs over mirrorless cameras for one reason or another, Canon may be working on a non-5D DSLR camera that can satisfy that shrinking customer base for now.
"The source suspects that there is some kind of development going on to appease those users, but didn't know exactly what it was," Blair writes.
The original Canon 5D was announced in 2005 and was the first full-frame DSLR with a standard DSLR size (as opposed to the double-grip form factor of the 1D line). In 2008, Canon announced the Canon 5D Mark II, which made a huge splash as the first Canon EOS camera to offer video recording capabilities.
After years of ignoring full-frame mirrorless cameras while Sony dominated the emerging niche, Canon finally unveiled the EOS R in 2018. Since then, it has turned most of its attention toward winning the mirrorless market — Canon focused all of its lens efforts on RF instead of EF in 2019, and the company even said in January 2020 that it was done developing new EF lenses unless the market demanded more.
"Even if they announced a 5D Mark V today, it would pretty much be 2021 by the time it made it into the hands of most photographers who intended to upgrade," writes Alex Cooke of Fstoppers, "and given the average lifespan of such a body, that puts us at 2025-2027 when these photographers would be ready to upgrade.
"I doubt Canon wants to wait that long to push a big part of their professional base toward mirrorless when they are investing so much in the RF line."
One thing is for sure, though: in just 15 years and 4 generations, the 5D line has already made a huge mark on the history and evolution of cameras.