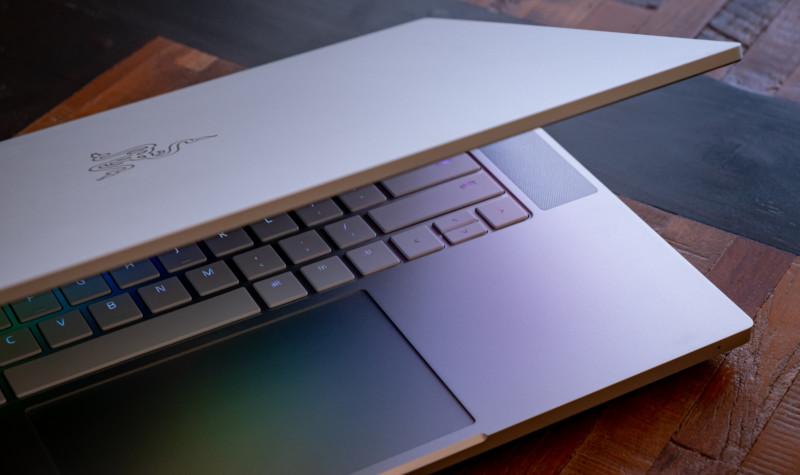 Only 7 months after releasing the first Razer Blade 15 Studio Edition, the PC maker turned around and released an update. Aesthetically, it's almost identical to its predecessor; but under the hood, you're getting even more horsepower… and that's saying something.
Intro and Specs
The 2020 Razer Blade 15 Studio Edition is the "flagship" of Razer's lineup of Blade laptops, with the most powerful innards and the highest price tag to its name. Updates from the 2019 model include a more powerful CPU and the ability to handle up to 64GB of RAM and 4TB of SSD storage.
Those last updates you'll have to make yourself, though. The "standard" build of the Blade 15 Studio Edition that you can buy online comes with:
CPU: 2.3GHz 8-Core i7-10875H, 5.1GHz Max Turbo
GPU: NVIDIA Quadro RTX 5000 Max-Q GPU with 16GB GDDR6 VRAM
Storage: 1TB M.2 NVMe SSD
RAM: 32GB Dual-Channel (16GB x 2) 2933MHz DDR4
Display: 60Hz 4K OLED Touchscreen that covers 100% DCI-P3
Price: $4,300
You'll notice that this computer doesn't come cheap. In many ways, Razer is the Apple of the PC world: exceptional build quality, exceptional design, top-shelf components, top-shelf price. This is especially true of the Studio Edition.
Design and Build Quality
I won't mince words: the Razer Blade 15 Studio Edition is one of the best built PCs on the market. In the 'Mercury' white finish, it has a very Apple-esque aluminum unibody design, a large glass-topped trackpad, and a solid keyboard with RGB backlighting that lets you customize every single key.
It also has the most beautiful display I've ever used in a laptop. Apple's retina displays are great, but the extremely color-accurate 4K OLED touchscreen in the Blade Studio is so sharp you could cut yourself. Some might argue (not without reason) that 4K is overkill on a 15-inch screen, but once you use this laptop it's hard to go back to anything else.
Finally, you get all of the I/O you might want—including three USB-A ports, one USB-C, one Thunderbolt 3, an HDMI port, and an SD card reader—and the laptop's 80Wh battery can now be charged over USB-C if you forgot your power brick at home (just don't expect full performance).
All of the above is great, and almost identical to the 2019 Blade Studio, but the one "major" change to the 2020 Blade's design makes it even better: the infamous Razer keyboard layout has been fixed.
If you read our review in December—or have watched anybody else's review of a Blade 15 for the past couple of years—you've probably seen complaints about the weird keyboard layout. Previously, the right shift key was set to the right of a full-sized up-arrow key. This threw the entire thing off, and made it impossible to use the laptop without accidentally hitting that up arrow multiple times per day.
That's been fixed by extending the shift key … a lot … and squeezing the up and down arrows into the space that used to be occupied by just the down arrow. Sure, the up and down arrows are a bit harder to use this way, but it's a huge usability improvement.
Performance
As with all our previous laptop reviews, we ran a few photo-specific benchmarks and tests to see how the 2020 Razer Blade Studio performed when compared to the 2019 Blade and the top-of-the-line 16-inch MacBook Pro. We did a disk speed test, a Lightroom Import, Lightroom Export, and ran Puget Systems' PugetBench benchmark for Photoshop.
For the Lightroom tests, we used 110 61MP Sony a7R IV files and 150 100MP PhaseOne XF files. Each test was run at least three times in quick succession, and we cleared the Camera RAW cache between each run and restarted Lightroom for good measure.
For Photoshop, we used PugetBench beta v0.8, because that's the last version that included the Photo Merge tests.
The news is good. Thanks to the new 8-core processor, the 2020 Razer Blade 15 Studio Edition saw performance gains across the board when compared to the 2019 model. Like the headline says: better in every way.
Disk Speed
Although we didn't perform this test on the 2019 Blade Studio, we decided to run Blackmagic Disk Speed Test for good measure and, as you would expect, the M.2 NVMe SSD inside is extremely fast. It's amazing to see how far SSD storage has come in the past couple of years. Keep in mind that there is only one 1TB stick inside our unit, but it can handle up to 4TB of M.2 storage if you feel so inclined.
Here are the results from the 2020 Blade Studio: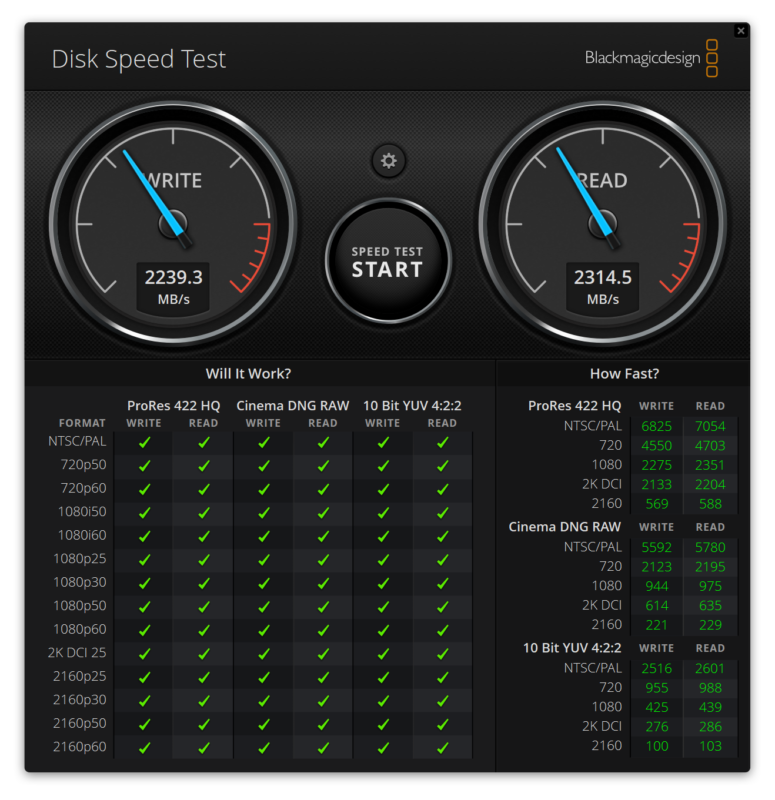 And here is the new 16-inch MacBook Pro for comparison: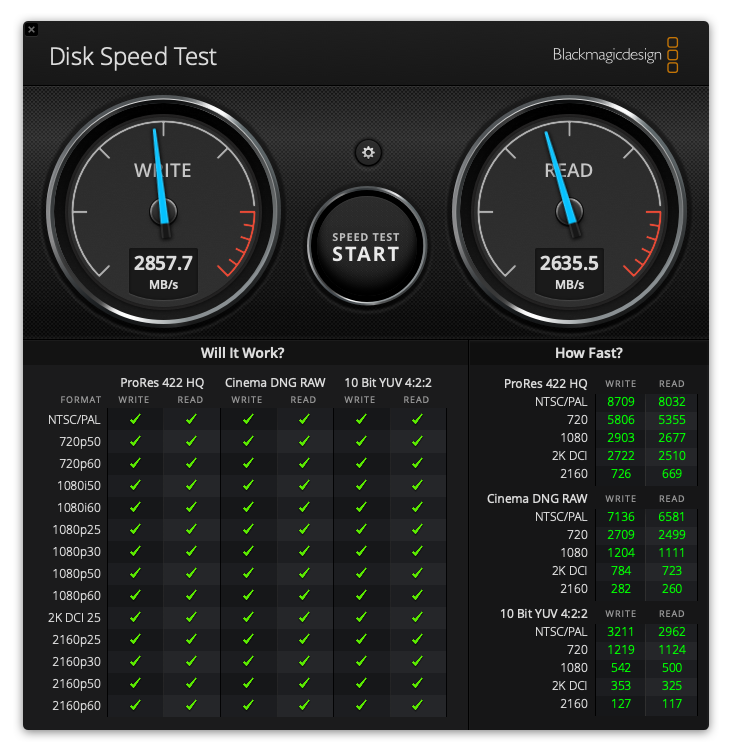 As you can see, the Mac churned out slightly better results than the Razer. That said, I wouldn't put too much thought into the slight variation between the results. There will be little (if any) noticeable difference in terms of real-world performance, as both are sporting some of the fastest drives you'll find in a laptop.
Lightroom Import
The Razer Blade's exceptional 4K display actually hurts the laptop in this category because Lightroom is still poorly optimized for high-res screens—in fact, you can get noticeably faster import results if you lower the screen resolution in Settings. But even with this handicap, the numbers look good.
As a reminder, we're importing the Sony and PhaseOne files separately and creating Standard previews. Smart Previews was left unchecked.
Lightroom Export
Export results are the same story. Whether we're talking 100% JPEG (sRGB), 16-bit TIFF (Adobe RGB), or DNGs with Medium JPEG previews, the 2020 Blade saw improved performance over the 2019 in every category and closed the gap with the 16-inch MacBook Pro.
We expected this, but it's still nice to see it play out.
Photoshop Benchmark
Same story in Photoshop: the new-and-improved 10th Gen 8-core CPU led to higher scores in every single category measured. We even saw a bump in the GPU score; I guess Adobe and/or NVIDIA have done some optimization since December.
One note: The AMD Radeon 5600M in Apple's latest 16-inch MacBook Pro actually outperformed the Quadro 5000 Max-Q in the Razer Blade, although the Blade killed it in the Photo Merge test. Given this GPU's "reputation" as the best of the best, it's worth pointing out. It may be an optimization issue, or it may be that the graphics performance you're paying for won't really show up until you're using all 16GB of VRAM in the Quadro and/or pushing it in more intense 3D rendering tasks.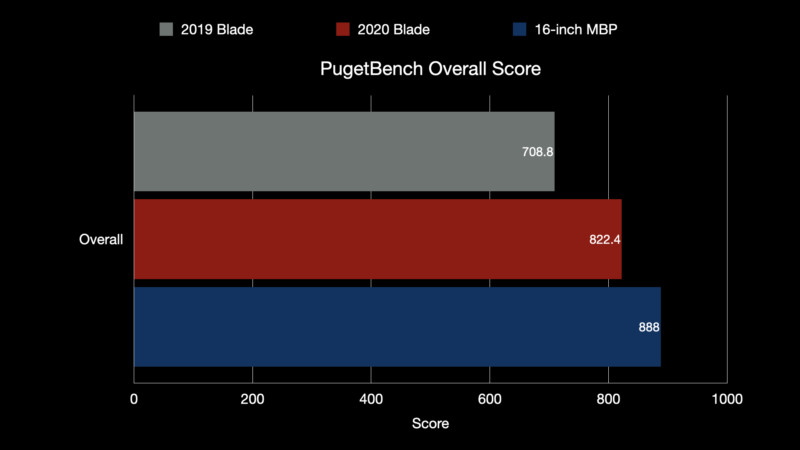 Conclusion
There's not much to say about the 2020 Blade Studio that we didn't already say about the 2019 Blade Studio back in December—it's everything that computer was… just better. Fixed keyboard, new 8-core CPU, USB-C charging, and the ability to handle up to 64GB of RAM and 4TB of storage helps it catch up to the 16-inch MacBook Pro it's often compared against.
For fans of Apple's build quality, design aesthetic, and squeaky clean operating system with no bloatware, a Razer is probably the PC for you.
But the question we're trying to answer is: "Should photographers buy it?"
And the answer is: "No… you should buy the Blade 15 Advanced instead."
I'll admit it: it's fun to test the most powerful Blade that Razer makes… especially when you're also testing the most powerful MacBook Pro that Apple makes. But like the $6,700 MacBook Pro, the Blade 15 Studio is overkill if you don't plan to use the Quadro GPU to its full potential, and most photographers won't.
For $1,000 less, you can get the Razer Blade 15 Advanced with: the same CPU, the same excellent 4K display, the same 1TB SSD, a killer NVIDIA RTX 2080 Super GPU, 16GB of RAM and, new for 2020, an SD card slot. Pop it open, throw 32GB or even 64GB of RAM in there, and you'd be hard pressed to tell the two variants apart in any photo editing task you can think of.
It's a bummer the Advanced isn't available in the more professional-looking 'Mercury' finish you see here, but I'll be honest: that alone is not worth the extra $1,000.